REMARKABLE NEWS ABOUT AFRICA:

SOUTH AFRICA August 14 2003: Rare Collection of African Literature Returns to Its Roots
One of the world's most extensive collections of African literature is on its way from the United States to Durban to become the cornerstone of a new research center. A 13,000-piece collection of books, magazines and audio and video recordings will reach South Africa in December, and be housed in a new Center for African Literary Studies at the University of Natal. The center will open early next year. The collection, known as the Lindfors Library, includes rare first editions signed by giants of African literature, such as Nigeria's Chinua Achebe and Wole Soyinka and South Africa's Nadine Gordimer. It is named for the American scholar who spent 40 years putting it together. A university spokeswoman describes the collection as a key intellectual and cultural resource. The university did not reveal how much was spent to acquire the collection from Professor Bernth Lindfors of the University of Austin in Texas. But the mining giant Anglo American said it contributed $135,000 to help buy the books. Professor Lindfors is regarded as the world's most resourceful bibliographer of African literature. He witnessed a literary renaissance while teaching in Kenya in the 1960s, and dedicated himself to raising the status of African literature among American academics. In a statement, the university said returning the collection to Africa was Professor Lindfors' ultimate goal.

LIBERIA/MONROVIA August 11 2003: LIBERIAN PRESIDENT TAYLOR IN EXILE IN NIGERIA
Under severe attacks of the liberation groups Lurd and Model, and after pressure from the International Community Liberian President Charles Taylor resigned as leader on August 11 2003. The official handover of power to his V.P. Moses Blah has been witnessed by South African President Thabo Mbeki, Ghanaian President John Kufuor, Mozambican President Joaquim Chissano and Togolese Prime Minister Koffi Sama. The day before Taylor delivered a defiant farewell speech in which he blamed the country's problems on the United States. At 6.15 p.m. he Liberia's former president, Charles Taylor, left Liberia and is beginning life in exile in Nigeria after relinquishing power as part of moves to end more than a decade of civil war and regional instability.
For further information READ EVERYTHING & VIEW UNIQUE PHOTOGRAPHS

WASHINGTON DC August 6 2003: FAST-ACTING EBOLA VACCINE PROTECTS MONKEYS
A single shot of a fast-acting, experimental Ebola vaccine successfully protects monkeys from the deadly virus after only one month. If this vaccine proves similarly effective in humans, it may one day allow scientists to quickly contain Ebola outbreaks with ring vaccination--the same strategy successfully used in the past against smallpox, according to a study published in this week's issue of Nature. This finding is the result of collaboration between scientists at the Dale and Betty Bumpers Vaccine Research Center (VRC), part of the National Institute of Allergy and Infectious Diseases (NIAID), and scientists at the United States Army Medical Research Institute of Infectious Diseases (USAMRIID) at Fort Detrick, MD. "This research has enormous public health implications not only because it might be used to limit the spread of Ebola virus, which continues to emerge in central Africa, but also because this vaccine strategy may be applied to other highly lethal viruses, such as the Marburg and Lassa fever viruses and the SARS coronavirus, that cause acute disease outbreaks and require a rapid response," says NIAID Director Anthony S. Fauci, M.D. Under the directorship of Gary Nabel, M.D., Ph.D., scientists at the VRC have been pursuing the so-called "prime-boost" vaccine strategy against a variety of infectious diseases. Prime-boost is a two-part process: First, an injection of non-infectious genetic material from the disease-causing microbe primes the immune system to respond. Second, several weeks later, an injection of attenuated carrier viruses containing key genes from the microbe substantially boosts the immune response.
For further information click here

SOUTHERN AFRICA 07 July 2003: TRANSFRONTIER PARK PROJECT
Incorporating existing parks and conservation areas in Angola, Botswana, Namibia, Zambia and Zimbabwe.
The area surrounding the Okavango-, Kwando- and Zambezi Rivers, has been described as the "Eden of Africa" as long ago as in the beginning of the previous century. Since then very little and very much has changed. Much has changed in this sense that the areas has been carved up into 5 different countries and has experienced the scourges of war. Little has changed in this sense that hardly any development has taken place and the border is often just a line drawn on a map - still peoples and wildlife co-exist in harmony and trek across borders at will. This amazing area varies from the "Thirstland" of the Kalahari Desert, to the amazing Okavango Swamps and the tropical paradise around the world famous Victoria Falls. Large sections of this area has never been fully explored but more than 500 species of birds have been listed. The animal kingdom is truly remarkable with Sable antelope, Roan antelope, elephant, buffalo, hippopotamus and crocodile in abundance.
The idea at present is to incorporate as large an area as possible and to establish a free roaming area for animal and tourists in this area. Initiator, mr Koos Greeff from South Africa, would also try to incorporate as many as possible of existing settlements and communities into the running of this park. Great effort will have to be made to establish sustainable, co-existing industries and farming enterprises so as to not prevent the local inhabitants from living a decent human life.
For further information click here

AFRICA 06 July 2003: BUSH'S FIRST VISIT TO AFRICA
President Bush's first trip to Africa, begins July 7. His five-day journey will begin in Senegal. He also will travel to Uganda, South Africa, Botswana and Nigeria.
"Bush the First" refused to apologize to South Africa for the help that the CIA, under his direction, gave to the South African police fighting Nelson Mandela's ANC. He refused even after Nobel Prize Dr. Mandela asked him nicely... Anxious to know what the "Young Bush" George jr. will do while visiting South Africa!
Peace is a priority for the U.S. president. Speaking last month before the Corporate Council for Africa, Mr. Bush stressed that the United States is determined to help bring peace to war-torn African nations, such as Liberia, Congo and Sudan. Mr. Bush's trip will also focus on economic development and the importance of trade for Africa's future. Terrorism will be high on the agenda as well, especially in Uganda. The United States recently announced an aid package for several East African countries, to support their counter-terrorism efforts. The fight against AIDS, which has ravaged parts of the continent, will be another major topic throughout Mr. Bush's trip. He recently signed into law a plan to spend $15 billion to help combat AIDS in Africa and the Caribbean.
In April 2002 the US has signed a trade agreement with a regional organisation of eight West African countries which it hoped would lead to greater commercial ties between the two sides. Officials in Washington said the deal would help increase trade with the West African Economic Monetary Union (WAEMU) - a group of countries who all use the west African CFA franc as their national currency. The WAEMU members are: Benin, Burkina Faso, Ivory Coast, Guinea-Bissau, Mali, Niger, Senegal and Togo. Total two-way trade between the US and the WAEMU in 2001 year rose by 12% to more than $760m (£524m).
For further information click here

Netherlands 05 July 2003: Quest for Talent "The Lion King Musical".
At this moment Elvira Owuor in The Netherlands is working hard to find talented coloured African performers (or performers from the African diaspora) who are able to perform fulltime for at least one year in the musical The Lion King. The musical will be starting in April 2004 in Scheveningen. It is a large production for a broad public, with many international collegues, support, choreographers and so on. Elvira is looking for talented African: -singers (for pop-rock songs by Elton John) who are able to speak at least some Dutch -dancers with a classical or modern background or education -actors who are able to speak at least some Dutch, who have had suitable education in this field or collected practical experience -kids from the age of 8 until 12, maximum length 1.50 mtr, with interdisciplinairy talents (talent in singing, dancing and acting), who can speak Dutch.
For further information contact AFRICAN.NL

UGANDA 02 July 2003: Scientists Record Breakthrough; Ugandan tribe provides the clue
A major breakthrough in the decade long search for cure to the Acquired Immune Deficiency Syndrome (AIDS) has been recorded by scientists working under the aegis of the Ugandan Virus Research Institute. The apparent solution is a product of a discovery by the scientists that a small group of Ugandans living close to Lake Victoria seem to have natural protection against AIDS as they did not contracting the virus despite having unprotected sex with partners who are Human Immune Virus (HIV) positive. The researchers concluded that the Ugandan group appear to be able to stay HIV negative because their immune systems are able to fight HIV. The research had been endorsed by Professor Andrew McMichael of Oxford University in the United Kingdom who is a leading AIDS vaccine researcher. Professor McMichael also said that the Ugandan research will help to evaluate the existing vaccine and perhaps provide clues to how to modify it to improve it. According to a consensus of scientists, vaccinating against AIDS should be possible one day. Attempts so far have not proved successful but trial vaccines are being tested around the world. Clues to combating the disease, which has killed more than 25 million men, women and children worldwide, come from a minority of individuals who are repeatedly exposed to HIV but never succumb to infection. The first example of this was found in Kenya among sex workers who appear immune to HIV. Professor McMichael developed the trial DNA-MVA vaccine in collaboration with scientists in Nairobi.
For further information contact UGANDA

NIGERIA 01 July 2003: NIGERIAN NEW PRESIDENT OF ROTARY INTERNATIONAL
If you are not already aware of it, the first President of Rotary International from Africa is Jonathan B. Majiyagbe, who took office on July 1, 2003. A resident of Nigeria, Mr. Majiyagbe has a long and distinguished history in Rotary and in the profession of law, having been named Senior advocate of Nigeria, the country's highest professional honor. For more information, you can visit http://www.rotary.org to read about this remarkable leader and his plans for Rotary International for the 2003-2004 Rotary year.
For further information click here

CONAKRY/GUINEA 25 December 2002: Nelson Mandela granted 1st 'Mother Africa Award'
The organization of the first Africa Internet Poll -who should win the Mother Africa Award 2002' announced that Dr. Nelson 'Madiba' Mandela was elected by the Internet community as winner. 8,546 People visited the 'Mother Africa Award' Poll page, and 6,445 official votes were counted of which 1,523 (23.6%) went to Nelson Mandela, the first ever winner of this unique Internet Award. Runner up Kofi Annan scored 1,466 votes (22.7%) and number three Bono (U2) got 1,256.
'Mother Africa Award' is the one and only Africa Internet Award for a person, group, organisation or event, contributed significantly to create a better image for Africa. The contest was held between 19 January and 25 December 2002. Due to a lack of funding, the organization is unable to facilitate an Award Ceremony but hopes next year things look better.
For further information contact 2002 AWARDS

KINSJASA/JOHANNESBURG: 17 December 2002: Peace in DR Congo
Congo's government, rebels and opposition parties signed a peace accord Tuesday to end four years of civil war and set up a transitional government to lead Africa's third-largest nation to its first democratic elections since independence in 1960. Under the accord, mediated by South Africa, Congo President Joseph Kabila will remain the interim head of state until the elections can be held in about 30 months. "The agreement will help bring stability to the entire region." Chances for success of this accord also have been bolstered by the withdrawal of all but a handful of the tens of thousands of foreign soldiers who took sides during the civil war. Under the deal, the interim government will also include four vice presidents named from the government, the two rebel groups and the political opposition.
Congo's civil war has left an estimated 2.5 million people dead, mainly from war-induced hunger and disease. Congo is a resource-rich nation about the size of Western Europe. The peace deal was signed in the South African capital shortly after 2 a.m. Tuesday when negotiators approved a list assigning ministries to the various groups. The Ugandan-backed rebels agreed to give up the finance portfolio to the government in exchange for the presidency of the 500-member national assembly, delegates at the talks said. Civil society representatives will choose the head of the 120-member senate. The talks were a continuation of earlier negotiations held at the South African resort of Sun City in which rebels and the government agreed to the basic structure of the power-sharing agreement. But the negotiations bogged down over control of the army, police, diplomats and public companies.
The new accord calls for the deployment of a national police force drawn from government-and rebel-held areas to maintain law and order in the Congolese capital. A U.N. force is expected to be deployed in Kinshasa to guarantee the security of rebel leaders when they arrive to take up their new jobs. On Dec. 4, the U.N. Security Council authorized the expansion of the United Nations Mission to Congo, from 5,537 to 8,700 international military personnel. A committee is supposed to work out details of the deal. Congo's war broke out in August 1998 when Rwanda and Uganda backed Congolese rebels in a bid to oust then-President Laurent Kabila. Angola, Zimbabwe and Namibia sent troops to support the government. Kabila was assassinated in January 2001, and the peace drive gained momentum under his son and successor, Joseph Kabila. All but a few of the foreign combatants have withdrawn, but fighting, particularly in the rebel-held northeast and the government-held southeast, continues among rebel splinter groups and tribal fighters.

NAIROBI/WASHINGTON December 11, 2002: Joint Statement by the United States of America, the Republic of Kenya, and Ethiopia
At the invitation of President George W. Bush, President Daniel T. Arap Moi of Kenya and Prime Minister Meles Zenawi of Ethiopia met at the White House on Thursday, December 5, 2002.
The leaders reaffirmed their strong commitment in the global war on terrorism. They recognized the significant and unique challenges of fighting terrorism, which continues to pose a serious threat to the region and the world. To this end, the three leaders reaffirmed their commitment to work together and, with the international community, to eliminate terror networks and actively oppose those governments and organizations that support, harbor, or tolerate terrorist activities. The leaders renewed their determination for lasting peace and security in the region and recognized that freedom and democracy comprise the foundation of these objectives. President Bush expressed his appreciation for the efforts of Kenya and Ethiopia in the peace process in Sudan and the reconciliation process in Somalia. He also indicated his confidence in a smooth election and transition process in Kenya, and the prompt and continuous progress in the Ethiopia-Eritrea peace process as proscribed in the peace agreement. The leaders called attention to the food crisis in the Horn of Africa, particularly in Ethiopia, where food shortages are affecting six million people and may eventually expose 14 million people to starvation. The United States will continue to provide food aid and other humanitarian assistance to alleviate the effects of the crisis and calls upon other donor nations to provide substantial emergency assistance. The leaders also agreed to take steps to prevent the recurrence of food emergencies in the region. The leaders welcomed African development initiatives, such as the New Partnership for Africa's Development (NEPAD), and called upon African countries to take advantage of opportunities provided by the African Growth and Opportunity Act. They recognized that long-term economic prosperity will require strong leadership at home to promote economic freedom, coupled with support from both local and international communities. The leaders expressed concern over the devastating effects of the HIV/AIDS pandemic and other infectious diseases in Africa and their impact on social, economic, and security sectors. Kenya and Ethiopia lauded the Bush Administration for its leadership in the global fight against these diseases and for being the largest, single contributor to the Global Fund to Fight HIV/AIDS, Tuberculosis, and Malaria. They resolved to give high priority to the campaign to eradicate these diseases, and the United States reaffirmed its support.
For further information contact KENYA

JOHANNESBURG/SA December 10, 2002: OIL ANALYSIS
THE west African oil rush is in full swing, with consequences that will reach down to the southern end of the continent and beyond. The islands and states around the Gulf of Guinea in particular are attracting increased interest from global oil firms and Washington, which seeks to reduce US dependence on Mideast crude. The US is the world's largest oil consumer. The rate of discovery of new oil reserves in Africa has been the fastest in the world in the past five years, according to the US Corporate Council on Africa. Most of these new proven reserves have been found around the Gulf of Guinea. West Africa, mainly Angola and Nigeria, now supplies about 15% of US oil imports, and US officials project African oil could account for 25% of their country's crude imports by 2015. A key factor in US calculations is the role played in west Africa by the quota-setting Organisation of Petroleum Exporting Countries (Opec) or, more accurately, the lack of a role. The only Opec member in west Africa is Nigeria. One of the big questions for west Africa is the extent to which the US flag will follow oil production into the Gulf. Sao Tome and Principe's President Fradique de Menezes, is quoted in a recent article in The East African, published in Kenya as saying his country has reached agreement with the US for the construction of a naval base that will be able to accommodate aircraft carriers. Washington has denied that it wants to build a Sao Tome base, though it is hinting at "coastal patrol issues". Signs are that in the short term the US administration may want to play down the role of west Africa as a source of oil that would replace Mideast producers. While Walter Kansteiner, the US state department's top Africa official, said at the recent Corporate Council on Africa Oil and Gas Forum in Houston, Texas, that he considered west African oil of strategic importance, he said the US had no "detailed battle plans" to extract oil from west Africa. "Some bureaucrat in Washington will not increase oil and gas development in Africa because he thinks it's a good idea after looking at a map," he said. "Market forces and geophysics they will dominate the process." A number of huge projects are about substantially to boost west African oil and gas production. Angola wants to nearly double its production in the next six years. The West African Gas Pipeline will link the Escravos gas field in Nigeria with the Ghanaian market. The Chad-Cameroon pipeline now the largest single investment project on the continent will take Chadian oil to the coast for export. Equatorial Guinea is scheduled to bring 16 wells on stream next year. There are no proven reserves in Sao Tome yet, but these are "prognosticated" at about 9-billion barrels. The country already has in place agreements with Nigeria on the sharing of revenue from a field straddling the territorial waters of the two countries. Duncan Clarke, the Johannesburg-based CEO of independent management advisers for the oil and gas industry, Global Pacific & Partners, says an increasing problem in these deals is likely to be the revenue split between governments and companies. For example, in some fields, the Angolan government takes about 85% of revenue, though this varies from field to field. Finding the share in which the government is able to maximise its revenue while not chasing away prospective investors is the challenge. One way or another, oil revenue holds out the prospect of transforming the region. Countries with small populations and large per head oil revenue like Equatorial Guinea and the island state of Sao Tome and Principe will be a great deal richer and no longer dependent on foreign aid. Chad, one of the world's poorest countries, will enjoy a 50% boost to its government revenue in the next few years. Conflict over oil and oil revenue, of course, could also lead to wars. For SA, the west African developments will have a range of consequences. In the short term, however, Mideast producers are likely still to remain the country's principal oil suppliers. Nevertheless, SA imports of Nigerian oil have grown from zero in 1994 to 6,5% last year. Angola supplied 1,2%. According to the SA Petroleum Industry Association, Saudi Arabia supplied about 40% of SA's oil imports and Iran, 30%. SA is also likely to benefit from growth in the Angolan economy. An increasing number of SA companies including retailers, contractors, and mining companies are keen to either expand or start up operations in Angola now the civil war has ended. It is unlikely the west African oil rush will divert US diplomatic attention away from Pretoria. In its national security strategy paper released in September, the Bush administration said it wanted to focus its attention on SA, Nigeria, Kenya, and Ethiopia; countries that are "anchors for regional engagement."
Copyright © 2002 Business Day.
For further information contact ANGOLA

CHAD 11 July 2002: 'Astonishing' skull unearthed in Chad
After a 25 year quest French scientist Michel Brunet of the University of Poitiers recently unearthed in the desert in Chad an approximately seven million years old human-like skull, which is being described as the most important find of its type in living memory. Sahelanthropus tchadensis, as the find has been named, may turn out to be a direct human ancestor or it may prove to be a member of a side branch of our family tree. The Sahelanthropus has been nicknamed Toumai, a name often given to children born in the dry season in Chad. Scientists say it is the most important discovery in the search for the origins of humankind since the first Australopithecus "ape-man" remains were found in Africa in the 1920s. The newly discovered skull finally puts to rest any idea that there might be a single "missing link" between humans and chimpanzees, they say.
For further information contact CHAD

DURBAN 10 July 2002: First summit of the African Union
Africa threw a birthday party for its new African Union on Tuesday, celebrating the traditional as well as the modern with Zulu warriors, Senegalese soccer stars and nationalist hero Nelson Mandela. No African gathering these days is complete without Libya's Moammar Gadhafi, and sure enough, he seized the opportunity to offer Africa words of encouragement. "Africa for the Africans! The land is ours! You are the masters of your continent! You are marching to glory!" Gadhafi told a crowd of thousands in fractured English. "Forgive the whites! They are now poor. We are bigger than them," he said to roars of approval, echoing the reconciliatory policies of his friend Mandela, South Africa's first black president. African leaders, meeting at a sports stadium revered by Durban's minority whites as the home of a beloved rugby team, duly pronounced speeches launching the 53-nation African Union, a grouping meant to help rescue the continent from war and poverty. The crowd of up to 20,000 heard some of Africa's longest-serving leaders read an honor roll call of the continent's liberation heroes. Then the party began ­ with the booming drums of Zulu warrior dancers and a choral ensemble who mimed to a recording of their own African Union anthem. Parachutists descended from the sky as marching bands, composed of white and black military servicemen, drilled. Making no concessions to the variety of cultural sensitivities on the continent, bare-breasted Zulu maidens pranced before an audience including North African Islamic fundamentalist leaders. Male warriors leapt and cavorted, brandishing traditional spears and fighting sticks. "This is a moment of hope for our continent and its peoples," said South African President Thabo Mbeki, the AU's first chairman. "We must now defeat poverty, disease and ignorance and end the senseless wars and conflicts causing so much pain and suffering." The AU replaces the 39-year-old Organization of African Unity, which was formed as the continent emerged from colonial rule but whose efforts to end the multiple conflicts in Africa were hamstrung by its doctrine of noninterference in the affairs of member states. The AU was initially conceived by Gadhafi, who first proposed it as a full-blown "United States of Africa." All African nations except Morocco are AU members. Morocco withdrew in 1985 after the admission of Western Sahara, a territory claimed by Rabat. Also, the chair of Madagascan President Marc Ravalomanana was empty. He was barred from the meeting after winning a presidential election in December that the OAU considered illegitimate, even though his victory was confirmed by Madagascar's Constitutional Court.
For further information contact AU

AFRICA 20 June 2002: Food Disaster in Southern Africa
Due to severe food shortage in Southern Africa, Thirteen million people face the threat of severe hunger -- even starvation. It's the result of one of the worst droughts in a decade. Many families have sold their livestock and other possessions to buy food. But what they earn doesn't last long. Fabian Makandauko is a Zambian farmer with a wife and three children. Fabian normally harvests 10 bags of maize from his land. This year's crop yielded less than one bucket of maize, and disease caused by the drought has killed six of his 12 cows. A bucket of maize won't sustain a family of five for very long. The situation is dire, but there's a bright spot. CARE has been working in the region for years. That means we are uniquely prepared to help poor communities in Southern Africa address their most threatening problems.
For further information contact CARE

ACCRA/GHANA 17 June 2002: GENOCIDE MONUMENT
Accra based Setordji worked two and half years on this work of art which consists of about 300 pieces. Setordji made a travelling monument from wood, metal, clay, waste materials and paint, that consists of a number of sculpture groups and objects. This artwork that weighs more than a ton, depicts the victims, refugees, politicians, judges and eyewitnesses. The directness of the imagery speaks to the conscience of the viewer. Rows of numbered terracotta faces painfully depict the anonymity of the thousands of victims: the monument was created in memory of the more than 800,000 direct and indirect victims. On the website ( in English and Dutch) the images of the work, information on the monumental project and a biography of Setordji; an infocentre about the Rwanda genocide and other genocides. Genocide Monument is the most recent production of the Virtual Museum of Contemporary African Art- an initiative of foundation Africaserver. www.africaserver.nl
For further information contact Virtual Monument

MOZAMBIQUE 15 June 2002: Chissano stops.
President Joaquim Chissano's announcement that he will not stand for re-election in 2004 should be a lesson to Africa's emerging leaders, both in power and in opposition, and more pertinently to presidents Robert Mugabe, Bakili Mulu-zi and Sam Nujoma. Chissano's decision should be especially noted in Zimbabwe because this country shares a liberation history very similar to that of Mozambique. Mozambique and Zimbabwe helped each other in many ways when they were fighting their bitter wars of liberation in the 1970s. Mozambique provided bases for Zimbabwean liberation war fighters and Zimbabwe in turn assisted by fighting off Renamo bandits who were bent on overthrowing the elected government. Chissano came to power after the death of Samora Machel in 1986, facing an extraordinary task to pull Mozambique out of its decades of civil war and poverty. Because of sound leadership and vision, Chissano is stepping down at a time when Mozambique's economy is booming and the country is enjoying political stability and democracy is entrenched. When they are marketing the New Economic Partnership for Africa's Development to Western backers, African leaders are using Mozambique as an example of what the continent can achieve. Time is up for dictators and a new breed of leaders who cherish democracy and good governance are now coming to the forefront in Africa, and Chissano is of that breed. Time is up for the remaining dictators.
For further information contact Mozambique

LONDON 13 June 2002: Call for transparancy Oil companies.
Today, international financier and philanthropist George Soros launched a call to governments across the globe for transnational resource extraction companies to 'Publish what they pay'. Mr. Soros has teamed up with a coalition of over 30 NGOs to insist that oil, gas and mining companies must publish net taxes, fees, royalties and other payments as a condition for being listed on international stock exchanges and financial markets. The coalition includes Amnesty International, CAFOD, Christian Aid, Friends of the Earth, Global Witness, Oxfam, Save the Children and Transparency International. Speaking at the International Institute for Strategic Studies (IISS) on the same day as the G7 Finance Ministers Meeting, Mr. Soros said, "Secrecy over state revenues encourages ruling elites to mismanage and misappropriate money rather than invest in long-term development. What we want is very simple: G7 Governments should require transnational resource companies to disclose what they pay for the products of the individual countries in which they operate. This is a real chance to promote good fiscal governance and help tackle worldwide poverty." Simon Taylor, director of the Nobel Prize nominated NGO Global Witness, argued that getting companies to publish what they pay is central to tackling vested economic interests in many conflicts where political and economic disorder from fighting is used as a cover to plunder resource revenues. He said, "Our investigations in war-torn Angola suggest that at least US$1 billion every year for the last five years - about one-third of state income - went missing from the government's coffers, most of which came from oil. If companies like ChevronTexaco and TotalfinaElf do not reveal how much money they are paying, then it is impossible for Angolan citizens to find out how much is missing." Mr Julius Ihonvbere from the Africa Centre for Constitutional Development in Nigeria highlighted how unaccountable oil revenues were central to propping up Abacha's reign of terror: "In Africa, we face a situation where billions of dollars from oil, mining and gas revenues go missing leaving us dependent on international assistance to feed our people. If governments make the bold step to support this campaign, it has the potential to bring huge improvements to the health and development of the people living in many of the countries in the region. After all, you cannot manage what you cannot measure".
For further information contact Global Witness

AFRICA 5 June 2002: Bamboo for sustanable building.
Introducing, Africa's first and only Association dedicated to the advancement and utilization of the Earth's most renewable, fastest growing, most versatile and useful plant: Bamboo. The African Bamboo Association is based in Senegal, West Africa, founded by Mr. Abdou Rahmane CISSÉ Latgana in 1998, and has a strong desire to expand the use of bamboo throughout Africa, stimulating and securing a sustainably developed future for Africans. ABA asks to promote the use of bamboo throughout Africa, and encourage the Industrial Development Sector to channel funds into this endeavor. Remember, there are several major Empires througout the history of the East that have built their entire infrastructures with bamboo. We can learn from these successful cultures. Bamboo is the building material of the future. Colombia and Mexico are pushing forward with government funded initiatives and Africa can benefit from these experiences.
African Bamboo Association
Mr. Abdou Rahmane CISSÉ Latgana
P. O. BOX / B. P. 421
DAKAR PRINCIPAL, SÉNÉGAL
For further information contact MAIL

PRETORIA/SA 24 May 2002: Bono, with Pan-African fervor/solutions?
United States Treasury Secretary Paul O'Neill and Irish rockstar Bono started a 10-day four-nation tour of the continent this week aimed at improving the impact of development aid and to see how Africans tackled their problems. The tour includes Ghana, South Africa, Uganda and Ethiopia. Bono's goal reportedly is to persuade O'Neill that Africa puts western aid to good use. O'Neill, the world's most powerful finance minister, is a known critic of previous anti-poverty programmes on the continent. On Thursday, the secretary said people could not be expected to live without clean water, as did about half the population of Ghana. "We should do something about it, and we should do it now." What he could not understand, O'Neill said, was that about US50-million could fix the Ghanaian water shortage. "When you think about the trillions of dollars that have flowed, at least for myself I ask: 'Why is this?'," he said. Bono told the media conference he believed Africa was the continent of the future. "I believe the 21st century is Africa's century. We just don't want to take to the end of the century to get it right." Bono described O'Neill as the man who held the purse strings of the US, and quipped that he was not interested in small change for Africa. "I am looking for big change, and big change is the relationship between the north and the south." The world's policy makers needed to move towards creating a global economy free of trade and tariff barriers, United States Treasury Secretary Paul O'Neill said on Thursday."Economic science tells us that if we can eliminate trade and tariff barriers completely, the world would be better for its inhabitants in the sense that economic productivity would improve and economic life would be better," he told reporters in Pretoria. "What we don't have is a mechanism of achieving what we know is a better world than the one we have. "For those of us in policy positions, the real challenge is to figure out a way... that produces movement towards the idea of no trade and tariff barriers," he said.
(Copyright © 2002 South African Press Association)
For further information contact MOTHER AFRICA

FREETOWN/SIERRA LEONE 16 May 2002: Sierra Leone President wins re-election.
The president of Sierra Leone, Ahmad Tejan Kabbah, was re-elected in the first vote since the end of the nation's devastating civil war. Following his landslide election victory Sierra Leone's incumbent President, Ahmad Tejan Kabbah, has been sworn in as leader for another five years. The result signals a sweeping rejection of the rebels who waged the war. Paolo Banguray, the rebel-allied candidate who stood instead of their jailed founder, Foday Sankoh, said: "We have lost, and we accept the people's verdict." People of the bullet-pocked capital, Freetown, took to the streets singing, dancing and waving the palm-frond symbols of Mr Kabbah's supporters. The National Election Commission said Mr Kabbah won with 70.6 per cent of the vote – well above the 55 per cent he needed to avoid a run-off. Dr Kabbah, 70, was credited by Sierra Leone's people with resisting the rebels during the insurgents' 10-year terror campaign. Mr Kabbah, who was a UN diplomat for 20 years before going into politics, succeeded in encouraging a UN peacekeeping force to intervene in 1999 and also won strong military backing from the former colonial power, Britain. The war, launched to win control of the government and of diamond fields, killed tens of thousands of civilians and left countless others injured. Dr Kabbah's party also did unexpectedly well in parliament, winning 83 of the 112 seats. It is hoped the elections, held with considerable assistance from a United Nations peacekeeping force, could mark the end of 10 years of conflict and signal a smooth transition from war to democracy.
For further information click here

JOHANNESBURG 15 May 2002: Susan Purén Journalist Of The Year.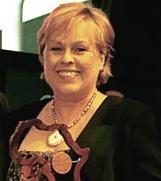 Susan Purén from 'Carte Blanche' for M-Net/DSTV, South Africa, has been awarded the top prize at this year's CNN African Journalist of the Year Awards ceremony. Purén was chosen among entrants from 26 nations across the African continent for her story, 'China, War Child'. Peter Matlare, Group Chief Executive, SABC and Eason Jordan, Chief News Executive and Newsgathering President of the CNN News Group, presented Purén with the award at a Gala Ceremony held at the Sandton Convention Centre this evening (Wednesday 15 May). The event was hosted by CNN in partnership with the South African Broadcasting Corporation (SABC). Chairperson of the Judging Panel, Dr. Doyinsola Abiola, said: "the entire judging panel was unanimous in awarding Purén the top prize. Her entry demonstrated a level of journalistic excellence and integrity which all of us felt deserved the highest recognition. Purén's work, along with that of all the finalists, demonstrates the sheer strength and quality of African journalism. Each and everyone of the finalists should stand proud of their work."
For further information click here

BAMAKO/MALI 14 May 2002: New President in Mali: General Amadou Toumani Toure
Amadou Toumani Toure is elected as new president of Mali simply called "ATT". In the run-off poll on 12 May, ATT received 64.35% of the vote. Mr. Toure is 53 years old and has held the office before - from 26 March 1991 until 8 June 1992. Few people pretend to know much about the man behind the hero image, the myth and the genial smile. Mr. Toure has been very low-key and cautious throughout the electoral period, avoiding bravado and any predictions about his victory or about how he will fare as president. In 1992 he became president after staging a coup to topple General Moussa Traore. That coup ended a 23 years heavy-handed military rule. After leading the country through a transition year and into multi-party elections, Mr Toure handed over power to newly elected President Alpha Oumar Konare. In October 2001 he took early retirement from the army to enter the presidential race. To many Malians Mr. Toure is a hero in his own lifetime, he has a reputation internationally for his peace-keeping work with the United Nations, and he has money. He's got a Foundation for Children, he does vaccinations and fights guinea worm, and many see him as a humanitarian. Mr. Toure is an ambitious man and he has no inferiority complex. He is full of contradictions. He can be shocked by misery, without seeing that he's part of the system that causes that misery. Laudable accomplishments in African peace-keeping and humanitarian work with Jimmy Carter, his many awards from all over Africa, and his elite military training in the former Soviet Union and also in France. Mr. ATT will have to learn how to handle the power he has been granted by Malian voters, even as he tries to live up to his reputation as a hero.
For further information click here

NYC/USA 10 May 2002: New Rehydration Formula
The World Health Organization, released a new improved formula of Oral Rehydration Salts (ORS) on Wednesday that would save millions of lives and reduce the severity of illness of those suffering from acute diarrhoea, WHO reported. ORS is a sodium and glucose solution used to treat children with acute diarrhoea. WHO said the new formula would reduce the severity of diarrhoea and vomiting, the number of hospitalisations, the need for costly intravenous fluid treatment and the length of illness. Use of the new ORS formula would begin later this year in India, WHO said.
For further information click here
NAIROBI/KENYA 01 May 2002: Coffee Revolution.
Two Kenyans Titus Gitau and Stephen Njukia want to auction beans over the internet. They say they want to get higher prices for the best coffees and pass on bigger profits to farmers. They say "in America, you walk into Starbucks and pay $5 for a cup of coffee, at the same time the farmers in Africa are getting very little." The two say they will sell only the very best coffee through their INTERNET COMPANY. At a first Internet auction in April a Japanese buyer paid $453 (£311) per 50 kilo bag of the best Kenyan Arabica coffee - $106 more per bag than the same lot fetched at a local auction a few weeks earlier. One container of coffee is worth $50,000. Titus and Stephen are planning their next auction in August 2002.
For further information click here

ANTEBBE/UGANDA 30 April 2002: Pan-African airline starts.



Captain Joe Roy launched AfricaOne, a new African airline which aims to link countries across the continent with the rest of the world. AfricaOne is entirely owned by African entrepreneurs, with no government involvement. The company is based in Uganda and President Museveni travelled on board the inaugural flight on Monday. AfricaOne aims to operate throughout the continent and initially will serve Entebbe in Uganda, Lagos, Freetown in Sierra Leone and Banjul, in The Gambia. These cities will be linked to London Gatwick and Dubai. The airline will use DC-9s for African routes and DC10s to make bi-weekly trips from Entebbe to Lagos and then on to Dubai, and also plans to expand to Zambia and South Africa.
For further information click here

NAIROBI/KENYA 29 April 2002: Kenyan president moves to protect forests.
(Source: CNN) Kenyan President Daniel arap Moi said Tuesday he would take "drastic measures" to stop the degradation of his African nation's forests, including banning timber harvesting in protected areas and prosecuting offenders. Moi made his vow a day after dozens of wealthy homeowners gathered in the pouring rain to protest the unauthorized carving up of one of two remaining forests in Nairobi. He also blamed the chief conservator of forests and his officers for "neglecting their responsibilities and allowing forests to be destroyed." Moi appointed a retired military official to supervise forest management. Moi also called on all Kenyans to report anyone they see cutting down protected forests.
For further information click here

LAGOS/NIGERIA 27 April 2002: 77 Million tourist by 2020
The World Tourism Organization (WTO) forecasts that international tourist arrivals in Africa are expected to reach 77 million by 2020. This represented an average annual growth rate of 5.5 percent for the period between 1995 and 2020. Africa needs urgent support to gain a better share of the international tourism market not only for tourist flows but also for alleviating poverty on the continent. The richness of Africa's resources and attractions as well as its closeness to Europe will help Africa boost the tourism sector to increase foreign exchange earnings. Eugenio Yunis, the head of Sustainable Tourism Development at the WTO called for investments from the private sector to develop the tourism, saying that in most developed nations, the rapid growth of the tourism sector in the last decades have been the result of private sector's efforts.
For further information contact Africa

WEST AFRICA 25 April 2002: US signs trade deal with West Africa
(Source: BBC) The US has signed a trade agreement with a regional organisation of eight West African countries which it hopes will lead to greater commercial ties between the two sides. Officials in Washington said the deal would help increase trade with the West African Economic Monetary Union (WAEMU) - a group of countries who all use the west African CFA franc as their national currency. The WAEMU members are: Benin, Burkina Faso, Ivory Coast, Guinea-Bissau, Mali, Niger, Senegal and Togo. Total two-way trade between the US and the WAEMU last year rose by 12% to more than $760m (£524m).
For further information contact BBC

NY/UNITED NATIONS 17 April 2002: Kofi Annan appoints Jane Goodall as Messenger of Peace
Secretary-General Kofi Annan honoured the renowned primatologist and environmentalist, Dr. Jane Goodall, today as a United Nations Messenger of Peace. Dr. Goodall, a resident of the United Kingdom and the United Republic of Tanzania, is well known for her pioneering research with chimpanzees in Tanzania which began more than 42 years ago. In recognition of Dr. Goodall's exceptional contribution to the advancement of research, education and advocacy on environmental issues, the Secretary-General appointed her a member of an advisory panel to assist in promoting the goals of the World Summit on Sustainable Development, to be held in Johannesburg in September 2002. The panel was also given the task of looking at new approaches to sustainable development.
For further information click here
AFRICA 16 April 2002: CNN African Journalist of the Year.
(Source: CNN) Finalists of the CNN African Journalist of the Year Competition, held in partnership from CNN with the South African Broadcasting Corporation (SABC) and sponsored by a number of top pan-African companies, were announced by Dr. Doyinsola Abiola, Chairperson of the independent judging panel. The competition, which received entries from 26 countries throughout the continent, was for the first time open to Francophone Africa. The finalists, from Cote D'Ivoire, Ghana, Kenya, Malawi, Nigeria, South Africa, Uganda and Zimbabwe are:
- Sara Blecher, S.A. Broadcasting Corporation (SABC), South Africa
- Angie Kapelianis, S.A. Broadcasting Corporation (SABC), South Africa
- Patrice Douh-Lessou, Fraternité-Matin, Cote D'Ivoire
- Khadija Magardie, Mail & Guardian, South Africa
- Isaac Masingati, Weekend Nation, Malawi
- John Mwendwa Gitari, Kenya Television Network, Kenya
- Tsvangirayi Mukwazhi, The Daily News, Zimbabwe
- Carolyne Nakazibwe, The Monitor, Uganda
- Declan Okpalaeke, Tell, Nigeria
- Susan Purén, for Carte Blanche, M-Net/DSTV, South Africa
- Loretta Vanderpuye, Ghana Broadcasting Corporation, Ghana
For further information click here
ACCRA/GHANA 11 April 2002: CONFERENCE ON WATER
The United Nations says millions of the world's poorest people survive on less than a fifth of the water they need and guaranteeing proper water supplies is vital to eradicating poverty. It believes the problem is worst in Africa, which also needs huge quantities of water for agriculture. This warning comes in a report written by Price Willem Alexander from The Netherlands, a Dutch adviser to UN Secretary-General Kofi Annan. The Prince of Orange, prepared a report, No Water, No Future, for a conference being held in the Ghanaian capital, Accra, from 15 to 17 April. Millions of Africans try to exist on 10 litres a day (2.6 gallons). They live in Gambia, Djibouti, Somalia, Mali, Mozambique, Uganda, Tanzania, Ethiopia and Eritrea. The Prince says, no single type of intervention has had greater overall impact upon economic development and public health than the provision of safe drinking water and proper sanitation. Prince Willem Alexander hopes one way of helping to reach these goals will be the New Partnership for Africa's Development (Nepad), the brainchild of the Organisation of African States (OAU). Nigerian Water Resources Minister Alhaji Muktari Shagari says over 400 million people will live in at least 17 water-scarce African countries by 2010. The lack of water will severely constrain food production, ecosystem protection and economic development in the affected countries.
For further information click here
LUANDA/ANGOLA 5 April 2002: Finally Peace?
Angola's army and UNITA rebel leaders have ended Africa's longest war by signing a peace agreement in the capital, Luanda. The Angolan government and UNITA have been at war almost continually since independence from Portugal in 1975. The pact was signed by armed forces chief General Armando da Cruz Neto and UNITA chief-of-staff General Abreu Muengo Ukwachitembo "Kamorteiro" at the parliament in Luanda as white flags flew outside. President Jose Eduardo dos Santos and interim rebel leader Paulo Lukamba "Gato" hopefully finished 27-years of strife. About one million people have died in the fighting and four million more, about 40 percent of the population, have been driven from their homes in the oil-and-diamond-rich country. The deal was also signed by the U.N.'s representative to Angola and ambassadors from the United States, Russia and former colonial power Portugal. Lukamba, who is known as Gato, took control of UNITA after the death of Savimbi and says "UNITA will be legalised as a political party and we shall operate as an opposition party. President Jose Eduardo dos Santos said he wants to organise national elections as soon as possible.
For further information click here
SOUTH AFRICA/KALAHARI 3 April 2002: Slimming Medicine from the San People.
The San Bushmen of Southern Africa stand to make millions of pounds from a so-called miracle slimming pill being developed by Western drug companies including Pfizer. The drug successfully passed the third phase of its clinical tests last December but is still four years away from coming to the market. The San People have faced extinction and poverty for hundreds of years, but that could change dramatically. An investigation exposed how British and United States drug firms aimed to make a fortune from an appetite-suppressing ingredient of the hoodia plant, which grows wild in Africa's Kalahari desert. It has been used for thousands of years by the San to stave off hunger and thirst on long hunting trips. The drug companies hope to turn the hoodia ingredient - dubbed P57 - into an international diet pill. Scientists believe that this natural product will have no side effects. With the worldwide market in slimming aids and anti-obesity products worth more than £163,6-billion, millions of pounds could flow to the Kalahari when the pill hits the market. Although the details of the agreement have to be hammered out, the San are likely to be involved in farming and cultivating hoodia and to be offered scholarships to study so that their ancient botanical knowledge may lead to other commercial products.
For further information click here
WEST AFRICA 2 April 2002: Big waste of Africa's fish.
(Source: BBC) Campaigners say European Union (EU) boats are wasting West Africa's rich fishing resources by discarding most of their catch. They say what is happening proves that developing countries should keep their fish to themselves. Unknown quantities of fish are being caught in all kinds of African waters and exported to industrialised countries like the EU and Japan. Foreign boats have been fishing in Senegalese waters for more than 20 years, catching huge quantities of shrimp, tuna and now sardines. The situation soon became an unsustainable free-for-all, with industrial fishing destroying the country's most valuable resource. Foreign fishing methods soon began to destroy West Africa's delicate marine ecology. The ecosystem in tropical waters is very fragile, and very vulnerable to the industrial trawling techniques used by the EU. This has been described as being akin to clear-felling in a forest. They're catching everything now, the small fish, the uneconomic fish. So out of the catch they make, possibly they keep anything between 10 and 20%. But anything from 80-90% is chucked back in the water dead. And very often these are the fish that form the backbone of the artisanal fishery. Not only are the trawlers clear-felling, they're also turning the ecosystem into a kind of waste dump.
For further information click here
GUINEA/CONAKRY 30 March 2002: New breed of rice - 50% more yield.
Farmers in West Africa are set to receive seeds for a new breed of rice, which increases harvests by up to 50% without the need for irrigation. It matures around a month earlier, and is richer in protein. In Guinea around 100,000 farmers are already growing Nerica. Nerica - short for New Rice for Africa - is a seed for a new breed of rice, which could increase harvests by up to 50%. It combines the hardiness of traditional African strains with the productivity of Asian varieties. Nerica could reduce the future need for rice imports dramatically. At a recent meeting in Ivory Coast the West African Rice Development Association (Warda) announced that Nerica seeds would be distributed to farmers in Benin, Gambia, Guinea, Ivory Coast, Mali, Nigeria and Togo. The target is to produce 750 million tonnes in 2003, which could save those seven nations as much as $100 million by reducing rice imports. From there, if all goes well, its developers hope Nerica will spread across sub-Saharan Africa.
For further information click here
SOUTH AFRICA: March 2002: New Malaria Drug
Pharmaceutical company Novartis launched COARTEM, a new drug to cure malaria. It has been used extensively by Netcare Travel Clinics in Soth Africa as well as other African countries. Netcare says that the drug works much faster than other traditional drugs on the market and is "pretty free of side effects". Research initially done in Tailand showed that it worked twice faster to clear the malarial parasite from the bloodstream. Quinine shows parasite clearance within 72 hours while Coartem can show a difference within an hour and complete parasite clearance within 36 hours. The drug has been in use in Europe and the United States but operates under the name Riamet.
NORTHERN GHANA 29 March 2002: State of Emergency.
President John Kufuor has declared a state of emergency in a northern region, where the king Andani of the influential Dagomba ethnic group was killed. Two government ministers have also resigned in connection with the unrest. It remains unclear what dispute sparked the fighting on Monday in which the chief and several other people were killed. President John Kufuor has imposed a dusk-to-dawn curfew in the conflict area and ordered a full-scale operation to arrest the perpetrators of the killings. He warned anyone or group that might try to take advantage of the situation that they would be "swiftly and decisively dealt with under the full rigours of the law".
For further information click here
BASEL/SWITZERLAND 28 March 2002: Swiss University Opens Centre for African Studies
Thanks to private donations, professorships have been created at the University of Basel for African History and Ethnology. The more than five centuries old University of Basel is now the first in Switzerland to offer courses in African Studies leading to the European equivalents of masters and Ph.D. degrees. Lecturers from other academic disciplines will come in to make this course of studies a truly interdisciplinary one, including Natural Science, Theology, Tropical Medicine and Epidemiology. Inaugurating the new Centre, Prof. Ulrich Gabler, the Rector (Chancellor) of the U. of B., stated that there was a need for trained Africanists, especially in the fields of development co-operation, diplomacy, tropical research and journalism. Many of the present political misunderstandings between African countries and the rest of the world, and many of the failures of recent developmental efforts, had their roots in the incomplete comprehension of African affairs by outsiders.

MONTERREY/MEXICO 23 March 2002: Agreement aims to reduce poverty gap
Leaders from around the world agreed on a plan to combat poverty, as the United Nations development summit in Mexico drew to a close. The new agenda, adopted by nearly 60 countries, aims to help millions of people out of poverty by increasing aid, reducing debt and encouraging global trade. The 16-page "Monterrey Consensus" envisages a partnership between rich and poor countries. UN Secretary General Kofi Annan had asked for an additional $50bn a year from rich nations to meet the conference's aim of halving the number of people living on less than $1 a day by 2015. But Washington declined to endorse this, saying that free trade and private investment hold the key to development. Mr Bush said he opposed the concept of measuring development aid only by the amounts given, rather than the results achieved. Cuban leader Fidel Castro spoke out against placing conditions on aid. "You can't blame this tragedy on the poor countries. It wasn't they who conquered and looted entire continents for centuries, nor did they establish colonialism, nor did they reintroduce slavery, nor did they create modern imperialism," Mr Castro said. "They were its victims."
For further information click here

BURKINA FASO, 22 March 2002: Meningitis ravages Africa
Government health officials say there have been several thousand cases of meningitis, 544 of them fatal, in Burkina Faso since January. The official said dust and heat have presented favourable conditions for the spread of the disease in various parts of the continent. Recently 33 people were killed by Meningitis in Somaliland and officials warn of Meningitis in Ethiopia. Also South African Pilgrims Warned Of Meningitis and Nigerian State Spends N45m Vaccines. "This type of the disease, if not controlled quickly, can spread rapidly and become an epidemic, especially in a crowded setting of cities", the WHO told on Tuesday.
For further information click here

DAR ES SALAAM, 21 March 2002: Storm Rages Over Kilimanjaro
Mount Kilimanjaro, the highest mountain peak in Africa and to many a source of pride and identity, is in the middle of a heated argument over its melting ice cap. Scientists announced to the world last year that the beautiful snow and ice fields will disappear altogether in 15 years' time. The first alarm was sounded in February 2001 by Professor Lonnie Thompson, a geologist from Ohio State University, US, who has studied ice fields on tropical mountains for the last 20 years. He made several aerial surveys of Kilimanjaro and found that a third of the snow has disappeared in the last two decades. Thompson warns that if Kilimanjaro's ice continues to melt, there could be serious repercussions for the mountain's local inhabitants and the country's tourist industry. Over one million villagers live at the foot of Kilimanjaro and depend on its springs for drinking and irrigation water. The disappearance of the ice could only mean drought and thirst for human beings, livestock and crops. The mountain also attracts more than 20,000 tourists every year, mainly from the United States and Europe.
For further information click here

RABAT/MOROCCO 21 March 2002: "Fairytale Wedding"
During a private ceremony today, 38-year-old King Mohammed VI of Morocco married with the 24-year-old astonishing beautiful computer engineer Salma Bennani. Salma Bennani is a native of Fez, who has worked for Omnium Nord-Africain. From today onwards she will be called Her Royal Highness Princess Lalla(Lady) Salma. The wedding itself will be celebrated with three days of festivities beginning April 12 in Marrakech and Moroccans are bursting with curiosity over details of what is being described as a "fairytale" wedding.
For further information click here

NAMIBIA: 20 March 2002: New Insect Discovered
An international team of scientists announced that a new insect order (group) has been found to exist in the Brandberg area of western Namibia. The international scientific expedition to Brandberg was sponsored by Conservation International, the National Museum of Namibia, the Museum for Comparative Zoology (Cambridge, USA), Oxford University Museum (UK), Natural History Museum (UK), Museum for Comparative Zoology, (Cambridge, USA), Museum fur Naturkunde, (Berlin Germany) and the Max Planck Institute for Limnology. The last new insect order was discovered 87 years ago. The discovery could be compared to other major discoveries recently made like the Coelecanth fish and Wollemi pine tree - all species thought to be extinct. Live and dead specimens will be sent to Germany where they will be studied for up to six years. Conservation International hopes the global attention the Brandberg area might receive as a result of the discovery could encourage local and international agencies to assist Namibia to establish management structures for conservation in the area. Once such management is in place, Namibia will be able to nominate the Brandberg to Unesco as a World Heritage Site and possibly also a World Biosphere Reserve.
For further information click here

LIBERIA: 19 March 2002: New refugee emergency
Again a humanitarian crisis is unfolding in Liberia, following operations by government troops against rebel guerrillas in the north-west of the country. Ten of thousands of people have fled their homes in recent weeks, after rebels known as Liberians United for Reconciliation and Democracy (Lurd) stepped up their attacks against the government of President Charles Taylor. in Gbarpolu county, 100 kilometres north of Monrovia, thousands of local people have been emerging from the bush as army troops engage pockets of Lurd fighters. Many of the displaced people are said to have been held hostage in rebel hide-outs in the dense Belle Forest, before regaining their freedom when government troops broke through.
For further information click here

CAMEROUN: 17 March 2002: Issa Hayatou runs for presedency of FIFA
Following an executive committee meeting of the African Football Confederation in Cairo last Saturday, Issa Hayatou of Cameroon announced his candidacy for president of the FIFA. Hayatou, who has headed CAF since 1988, vowed to work for a new FIFA by bringing in a new era of administration and reforms if elected president. He will challenge Sepp Blatter of Switzerland for the FIFA presidency, the top position in world soccer. Reliable sources say the CEO of Hyundai also will challenge Blatter and compete with Hayatou.

WEST AFRICA: 15 March 2002: Fish stocks sharply declined
Fish catches on the West African coast have declined sharply declined and some species have completely disappeared, the United Nations Environment Programme reported on Friday. The decline, it added, was linked to over-fishing by foreign fleets. "Country studies, including Mauritania, not only shed important light on the damage that can be caused by unregulated trade liberalization, but point to actions needed so that trade in fish contributes to development and sustains marine ecosystems," Hussein Abaza, Head of UNEP's Economic and Trade Branch said.
For further information click here

BRUSSELS/BELGIUM: 14 March 2002: New Belgian Airline flies Africa



As of April 26, 2002 SN Brussels Airlines is the newest Belgian airline, created to continue in the steps of the two companies Sabena and DAT, who between them had an unequalled safety record. The new company will keep Sabena's famous 'S' symbol as part of its identity, as a way of acknowledging and building on the know-how of its predecessors. From 26 April 2002 SN Brussels Airlines will open frequent Africa connections to:
- 5 times a week: Dakar and Banjul
- 3 times a week: Conakry and Monrovia
- 5 times a week: Kinshasa, Luanda, Douala and Yaounde
- 6 times a week: Nairobi, Kigali and Entebbe
This courageous decision is warmly welcomed by many business people and tourist traveling to Senegal, The Gambia, Guinea, Liberia, DR Congo, Angola, Cameroon, Kenya, Rwanda and Uganda. It will guarantee more competition in those markets to the benefit of all travelers but also to keep an important air-bridge to Africa. SN Brussels Airlines deserves support and applause. For further information click here
ZIMBABWE: 13 March 2002: Mugabe "wins" controversial election
Robert Mugabe swept to victory in Zimbabwe's presidential election held on 9,10 and 11 March, defeating challenger Morgan Tsvangirai to win a controversial fifth term in office. Results broadcast on state television today gave Mugabe 1,634,382 votes, or 52 percent of the 3.1 million ballots cast, with six districts still to be declared. Rival Morgan Tsvangirai of the Movement for Democratic Change (MDC) had 1,185,890 votes, or 38 percent of the votes cast.
For further information click here
WEST AFRICA: 12 March 2002: Region want to create a single currency.
Leaders in six West African countries want public support for a dramatic plan to boost economic growth. Along with 10 other countries in the region they want to create a single currency by 2004. The possible success of the single currency programme is in the hands of The Gambia, Ghana, Liberia, Nigeria and Sierra Leone and Guinea. The other 10 members of Ecowas are already linked together through the CFA franc.
MALI/BAMAKO: 10 February 2002: Cameroon wins Nations Cup
During 32 matches spread over 23 days, the African Nations Cup 2002 was held in Mali. Sixteen countries were going for gold and "The Indomitable Lions" of Cameroun won the title for the second time in succession, a title they won two years ago to join Egypt and Ghana as the only countries that have won the title four times.
For further information click here
PRETORIA/SOUTH AFRICA: 8 February 2002: New Transcontinental Highway
The South African Government launched a plan for a new highway that will stretch from coast to coast across national borders. This Bakwena Platinum Highway will improve the link between Maputo in Mozambique and Walvis Bay in Namibia and is the first high quality transcontinental route in Sub-Saharan Africa. The new highway will reduce export and shipping times by as much as ten shipping days, while the distance by road between Johannesburg and Windhoek will be shortened by some 500 kilometres.
For further information click here
NYC/USA: 3 February 2002: (CNN) Gates & Bono, unveil "DATA Agenda" for Africa
Microsoft founder Bill Gates and Bono, lead singer for the rock band U2, announced at the World Economic Forum here Saturday their plan to focus the world's attention on issues confronting Africa. "We have an agenda," said Bono at a news conference, "which we're calling the 'DATA Agenda': 'Debt, AIDS and trade for Africa, in return for democracy, accountability and transparency in Africa.' "At the moment," Bono said, "Africa is in the same kind of vulnerable position that Europe was -- to other extremists and ideologies. And I think it would be very smart for the West to invest in preventing the fires rather than putting them out, which is a lot more expensive."
For further information click here
NIGERIA/LAGOS: 27 January 2002: Bomb explosion causes 1,000 deaths
Over thousand people were killed a.o. by drowning in two canals as they fled massive bomb explosions at an armory triggered by the blaze Sunday January 27th 2002 in Lagos. The armory stored Nigeria's most powerful bombs and other armaments in a crowded residential Ikeja district in north Lagos. Many victims apparently didn't realize how deep the water was and drowned when they ran and drove vehicles into the canal
For further information click here
DR CONGO/Goma: 17 January 2002: 300,000 people fled Goma
Probably 45 people have died and over 300,000 fled to Rwanda after volcano Nyiragongo erupted yesterday near Goma. The city of Goma partly has been destroyed including the port and the airport. Fourteen neighboring villages have been destroyed also. Goma now is a ghost-town. Most people fled to Gisenyi near the boarder with Rwanda but are afraid the lava will soon reach this town too.
For further information click here
ZAMBIA: 02 January 2002: Patrick Levy Mwanawasa wins elections
Despite the polls' multiple flaws, Patrick Levy Mwanawasa's election as Zambia's president, put the country at the cutting edge of Africa's democratic development. With Mwanawasa's election, Zambia has become the third country in sub-Saharan Africa to have three consecutive, democratically elected heads of state since independence. His Excellency, President Levy Patrick Mwanawasa, S.C., was born on 3rd September, 1948, in Mufulira, Zambia.
For further information click here
NOBEL PRIZE FOR KOFI ANNAN
Kofi Annan, Secretary-General of the United Nations is Awarded the Nobel Prize for Peace in 2001 together with the United Nations as Organization in recognition of their efforts in establishing peace and combating AIDS.
For further information click here
SENEGAL: 21 December 2001: LEOPOLD SEDAR SENGOR DIED
The former Senegalese President, Léopold Sédar Senghor, died, Thursday, at his home in the northern French town of Verson, after a short illness. He was 95. One of Africa's leading statesmen and a poet of international stature, Sédar Senghor's legacy was summed up by French President Jacques Chirac who said: "Poetry has lost a master, Senegal a statesman, Africa a visionary and France a Friend".
For further information click here
DR CONGO & GABON: 07 December 2001: MYSTERY FEVER
(Source: BBC News) - The Democratic Republic of Congo and neighbouring Gabon have both been hit by mystery viruses which, it is feared, could prove to be Ebola. There are at least six dead and the situation is getting worse Faustin Boukoubi Gabon's health minister told BBC News. Seventeen people have died in DR Congo, according to the United Nations, while Gabon's health minister says that six people have died in the north of the country.
For further information click here
NIGERIA: 16 November 2001: AGBANI DAREGO: MISS WORLD
MISS NIGERIA: MISS WORLD 2001

At a glittering event LIVE from the Superbowl, Sun City in the heart of South Africa, the beautiful Agbani Darego, Miss Nigeria, was crowned Miss World 2001, to a standing ovation from an audience of over four thousand people.
For further information click here
NIGERIA: 13 November 2001: PRESIDENT WADE HONOURED WITH AAI AWARD
On behalf of president Abdoulaye Wade, the foreign minister of Senegal, Cheikh Tidiane Gadio, accepted one of the Africa-America Institute's two Awards for National Achievement on Tuesday night in New York City. The Senegalese leader received particular praise from the Africa-America Institute for his role as "a driving force behind the New African Initiative - an ambitious recovery plan inspired by African leadership and targeted at reducing poverty and external aid dependency in Africa." Wade's 'Plan Omega' was integrated into a similar Millennium Recovery Programme, masterminded by Presidents Thabo Mbeki of South Africa and Algeria's Abdelaziz Bouteflika, as well as the Nigerian leader, Olusegun Obasanjo.
For further information click here

PHILADELPHIA/USA: 1 November 2001: AFRICA BUSINESS SUMMIT IN THE USA
Six hundred of the approximately 1,500 people attended the Business Summit were African businessmen. Another 100 African trade and finance ministers. The Presidents of the Democratic Republic of the Congo and Algeria are participating as well as four Prime Ministers. A half dozen other presidents were slated to attend but cancelled when the Summit was rescheduled after the terrorists attacks on the World Trade Center and the Pentagon. The Summit - the largest gathering of African leaders ever to convene on American soil (outside of the United Nations) - was organized by the Corporate Council on Africa (CCA), a private-sector organization established in 1992, that seeks strengthened trade and investment ties between the U.S. and Africa. More than 190 American companies make up the CCA, representing approximately 85 percent of total U.S. private sector investments in Africa. "Assistance doesn't mean charity" said participants from Africa attending the Corporate Council for Africa's U.S.- Africa Business Summit. "It means investment."

AFRICA: 12 October 2001: NOBEL PRIZE FOR KOFI ANNAN
Kofi Annan, Secretary-General of the United Nations is Awarded the Nobel Prize for Peace in 2001 together with the United Nations as Organization in recognition of their efforts in establishing peace and combating AIDS.
For further information click here

WEST AFRICA: 11 October 2001: GRIEVANCES OVER LIBANESE
Deep down the hearts of many West African there are grievances over the negative attitude of most Lebanese toward them. The crux of their anger is based on the disrespectful conduct of those Lebanese who believe that money or wealth is everything, that with money you can do anything without being brought to book. It is like some of these Lebanese see themselves above the law and as they often say, the law is in their pockets.
For further information click here

NAIROBI/Kenya: 11 October 2001: LIVING FOSSIL DISCOVERED!
Kenyan tourism operators are preparing to capitalise on the discovery of a 'living fossil' coelacanth fish off the popular coastal resort of Milindi.
For further information click here

DAR ES SALAAM/Tanzania: 10 October 2001: RAT PLAGUE
Five regions in Tanzania are threatened by famine following a rodent invasion that has destroyed several hectares (acres) of crops and seeds in farms and barns. "The rodents are multiplying at an alarming rate in some regions, where a house can host up to 300 or 400 rats.
For further information click here

KAMPALA/Uganda: 10 October 2001: SLEEPING SICKNESS
There has been an alarming upsurge of sleeping sickness in Uganda and several other East and Central African countries. The infection rate has reached the devastating peak of the 1930s in Uganda, Sudan, the Democratic Republic of Congo (DRC) and Angola.
For further information click here

PHALABORWA/South Africa: 9 October 2001: BORDERS DOWN IN S.A.
Border fences between three southern African countries are coming down to allow elephants and other herds to follow ancestral migration routes in what will be the world's biggest game reserve. The Gaza-Kruger-Gonarezhou Transfrontier Park, which will link game reserves in Mozambique, South Africa and Zimbabwe, will be bigger than the Netherlands or Taiwan at 38,600 square kilometres (15,440 square miles).
For further information click here

ADDIS ABABA/Ethiopia: 5 October, 2001: BRITISH AIRWAYS FLIGHTS TO ETHIOPIA
British Airways flights from London to the Ethiopian capital. The first of the twice-weekly flights was set to leave London on Thursday afternoon. Flights will also depart the British capital on Tuesdays. Flights in the opposition direction will leave on Tuesdays and Fridays. The link will actually be operated by British Mediterranean Airways, an independent partner acting under a BA franchise.
For further information click here

TUNIS/Tunisia: 4 October, 2001: PORT CLOSED
The port of Tunis will handle no more commercial shipping by the end of December 2001, under a plan to turn the whole facility into a leisure marina. The harbour in the Tunisian capital will be transformed as part of a scheme to rehabilitate the southern part of the lagoon bordering the city.
For further information click here

BANJUL/The Gambia: 3 October, 2001: ELECTIONS
Campaigning officially started in Gambia for a presidential election on October 18 when four candidates will challenge President Yahya Jammeh. Apart from the head of state, who is standing as candidate of the Alliance for Patriotic Reorientation and Construction (APRC), the contenders are: - Sherriff Mustapha Dibba (National Convention Party) - Hamat Bah (National Reconciliation Party) - Sidia Jatta (People's Democratic Organisation for Independence and Socialism) - Ousainou Darboe, running for a coalition of three opposition movements, including his own United Democratic Party.
For further information click here

LUSAKA/Zambia: 1 October 2001: MISTERIOUS PIG DISEASE
About 250 pigs have died from a mysterious disease that has hit parts of the Southern Province of Zambia. The disease broke out three weeks ago a veterinary officer, Panel Nyimba told state radio. People in the affected areas have been advised to stop eating pork since veterinary officers do not yet know the cause of the disease, or its effects. Farmers have also been advised to lock up all their animals until further notice, the radio added.
For further information click here

KAAPSTAD/South Africa: 09 September, 2001: Dr Christiaan Barnard died
The world's most famous cardiac surgeon Dr Christiaan Barnard, age 78, died of a heart attack in Paphos/Cyprus on September 2nd 2001. Dr Barnard is renowned as the first surgeon to perform a human heart transplant in 1967, a giant step for medicine performed in the Groote Schuur Hospital, Cape Town, South Africa.
For further information click here

Durban/Sth Africa 04 September, 2001: US WALKED OUT OF CONFERENCE
The United States and Israel walked out of the World Conference Against Racism in Durban on Monday to protest a draft of the conference's final declaration that denounced "practices of racial discrimination against the Palestinians as well as other inhabitants of the Arab occupied territories" by Israel and said Zionism "is based on racial superiority."

MAPUTO, Mozambique, 27 August, 2001: New Road & Railroad
Mozambique and neighbouring Zimbabwe agreed to launch the Beira Development Corridor, a road and railway network linking landlocked Zimbabwe to the Indian Ocean. A memorandum of understanding signed by the two countries says the Beira Development Corridor will be launched mid-October of 2001. The Maputo Development Corridor comprises a modern road linking Maputo and the South African city of Witbank, and a railway line between the two states.
For further information click here

Old Lime/Connecticut, U.S.A., 25 August, 2001: MOSQUITO KILLER
15 Year old USA high school junior Michael Nyberg invented the "larvasonic" he calles an "accoustic larvicide system" - "a West Nile Virus killer". His invention could battle West Niles virus by killing larvae using sound frequencies. The device works by converting power from a rechargeable battery into sound energy, which is transmitted through an antenna into water. The emitted frequency causes the mosquito larva's air bladder to rupture surrounding tissue. The devices, which would cost from about $4'000 for a small handheld version to $50'000 for the sewage-treatment variety, would sell for a fraction of the cost of chemical treatments. Michael and his father Herbert Nyberg started a company called New Mountain Innovations to market the "Larvasonic".

LONDON, U.K. 23 August, 2001: GLOBAL SLOWDOWN DIAMOND DEMAND
De Beers Investments (DBI), the private company which recently took over South African diamond giant De Beers, said Thursday that first half net income fell 32 percent, as the global slowdown pinched demand for rough diamonds. Demand will moreover struggle to pick up in the second half, De Beers managing director Gary Ralfe admitted, predicting that the company would fall well short of its target of 2001 diamond sales worth 4.8 billion dollars (5.25 billion euros).

HARARE, Zimbabwe 22 August, 2001: FOOT & MOUTH IN ZIMBABWE
Foot-and-mouth disease has broken out among Zimbabwe's livestock after diseased animals were released by ruling party militants from quarantine areas on white-owned farmland, cattle industry officials said. The Zimbabwean government said it has halted all beef exports to Europe as a precaution. The disease will cost Zimbabwe's struggling economy at least $40 million in exports, government officials said, deepening the country's economic crisis.

Algiers 18 August, 2001: OIL REMAINS AT $25 PER BARREL
Algerian Energy Minister Chakib Khelil, recently said the price of a barrel of oil will remain stable at around 25 dollars during September 2001. Algeria currently holds the rotating OPEC presidency. "We foresee stability in the price around the 25 dollars per barrel mark, and probably a slight increase due to a rise in US demand for the winter," Khelil told at a press conference. From 1 September 2001, oil production by the Organisation of Petroleum Exporting Countries (OPEC) -- excluding Iraq -- is to be cut by a million barrels per day.

Europe 2001:

REVOLUTIONARY SOLUTION AGAINST WATER CONTAMINATION
SODIS (Solar Water Disinfection) cleans water in 5 hours, ideal to disinfect small quantities of water used for consumption. AND, … it is so simple everyone could have discovered it and even better, it is so cheap that everyone can do it and buy it. It only takes an empty transparant bottle and some black paint.
Further information: Click Here.

Europe, 03 August, 2001: PERPETUUM MOBILE
A European inventor claims to have developed a kind of "Perpetuum Mobile", being an electronic device connected to an electric engine. The electric engine runs on 18 amp. at 24 volt and the connected device produces 220 Volt in 4 groups of 20 amp. Further information: E-mail.

Kinshasa/DR CONGO 16 January, 2001: LAURENT KABILA ASSASSINATED
Laurent Kabila, president of the troubled Democratic Republic of Congo, was shot and killed Tuesday.

Kenya 1998: 200 AFRICANS DIED IN US EMBASSY ATTACK
When terrorists killed 12 Americans and over 200 Africans in attacks on U.S. embassies in Kenya and Tanzania, in August 1998, official America displayed little empathy for the African dead and injured. Although Washington eventually provided some aid to survivors, there was never a clear acknowledgment that it was Africans who had paid the greatest price.



---