Consultancy & Special Projects
Africa
| | | |
| --- | --- | --- |
| | MOZAMBIQUE | |
| | | | | |
| --- | --- | --- | --- | --- |
| | Other great Links | | More Links | |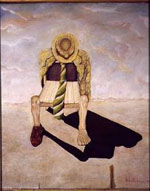 ©art: Macuacua Afonso
Official Name
Républica de Moçambique
Located
South East: Zambia, Tanzania, Zimbabwe, South Africa
Capital
Maputo
Head of State

President Armando Emílio Guebuza

Area
800,000 sq km
Population
17.8 million
Growth rate
3.9%
Languages
Portuguese, Mahua-Lomwe, Tsonge & Swahili
Currency
Metical (Mt)
GNP per capita
$810
Inflation
60%
Airlines
(advertise here)
from Europe: ________________
from Asia: ________________
from USA: ________________
Hotels
(advertise here)
Names & Rates per night
______________________
______________________
USAfrica Agent
________________
Country Advertiser
---
| | |
| --- | --- |
| | |

©2001-2002: Tourist Office



Zambezi River
©2001-2002: Tourist Office


Although the GNP and inflation rate would not expect, Mozambique is a success story. Since 1990 annual growth has been 6% and 10% per annum is predicted. For almost three decades war and political unrest were the norm in Mozambique until 1992. The beaches are among the best in Africa. It has been estimated that there are more than one million unexploded antipersonnel mines in Mozambique. The northern part of Mozambique Island contains so many buildings of historical importance it has been declared a World Heritage Site by the UNESCO. THE GREAT RIFT VALLEY actually is the effect of massive fracture lines below the earth's surface and runs over 5000 kilometers (3100 miles) from Lake Baikal in the north, to Mozambique in the south. The valley contains the planet's largest concentration of flamingoes, the seven Great Lakes of Kenya, and overwhelmingly dramatic scenery. Lake Victoria is one of the three largest lakes in the world. In Kenya the Rift Valley is so deep and sharply defined that it can be clearly seen from space. The valley is about 50 kilometers (31 miles) wide in Kenya, and as deep as 3000 meters (9850 feet) in the central highlands.

<!==========================next page-====================>

<!===============================end next==================>

Tourism
Culture
Economy
History
Photos
Various


<!=====================================begin buttons=====================================>