Luanda
©2002: Africa Focus



Luanda Beach
©2002: Africa Focus


Angola is at an important turning point in its history. Once a sleepy backwater in the far-flung Portuguese empire, Portugal's abrubpt decision to withdraw from Angola in 1975 threw the African colony into turmoil. A long and vicious civil war followed, attracting other more powerful nations into the foray and claiming many thousands of lives. After decades of war and strife, Angolans are now at peace and working to build a stable, democratic and free market republic. With the 1994 United Nations-sponsored peace treaty known as the Lusaka Protocol in place, hope for recociliation have been rekindled. Although the task is large and at times difficult, the path to peace, reconciliation and reconstruction is truly irreversible. Angola has been called potentially one of Africa's wealthiest countries as well as a likely future leader of southern African development. Now that peace has come so close, Angola is an expectant nation yearning for peace and celebrates the indomitable spirit of its war-weary people. The country is ready to realize its full potential. In accordance with the PNUD, 70% of Angolans live with less than 1 dollar per month, a third of the population has been displaced; HIV/AIDS, Malaria, Tuberculosis, sleeping sickness and malnutrition are serious problems of public health, the education system excludes more than a million children. In short, Angola presents the worse indicators of human development in the world, although it is one of major oil producers in Africa and one of the greatest diamond exporters.
| | | |
| --- | --- | --- |
| | | Angola is bordered by the Democratic Republic of Congo to the north, Zambia to the east, and Namibia to the south, and the Atlantic Ocean to the west. Angola covers an enormous area which runs from the desert areas of the south to the jungles of the thickly vegetated North. Mountains rise from the coast, leveling to a plateau, which |
makes up most of the country. The country is increasingly arid towards the south; the far south is on the edge of the Namib Desert. The enclave of Cabinda, bordered by DRC and Congo, is also part of Angola. The climate is tropical and humid in the north and subtropical with lower rainfall in the south. Temperatures are generally lower in the central plateau than in the more low-lying coastal regions. Luanda, the capital of Angola, is the country's largest city and a busy seaport. It is also spelt Loanda, and was earlier known as Sao Paulo De Luanda. The ethnic groups are the Mbundu and the Cuban communities. Share-taxis are a common view. Angola is the mouth of the Congo River.
Visitors to Angola can view and purchase Angolan art pieces at the numerous art galleries that are becoming more and more commonplace in Luanda. Kimbanda masks are a specific product of Angola. These masks are difficult to buy if they're used for kimbanda (the cult on which Brazilian Umbanda was based).






Faguito =====>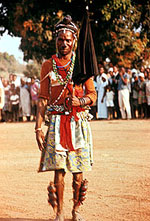 Cokwe Dancer
©2002: Africa Focus


Cokwe Mask
©2002: Africa Focus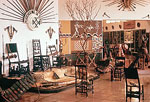 Museu de Congo
©2002: Africa Focus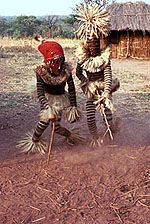 Shinje Dancers
©2002: Africa Focus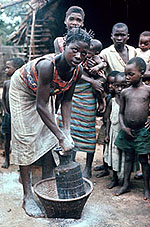 Shifting Cassava
©2002: Africa Focus


Economy:
Angola is rich in natural resources, including oil, coffee and diamonds. The discovery of large oil deposits off the coast of the enclave has led to it becoming the center of Angola's foreign business interests. Angola and the United Sates of America have economic relations, mainly in the domain of oil exploration. The "Angolan Oil" has become a resource of strategic importance to the United States. These economic relations have a tendency to magnify, and this is desirable for both countries. However, Angola would like that they would develop in other sectors as well, such as in the industry, social enterprises and education sectors. Gulf Oil and Sonangol, the Angolan state oil producer, run the oil industry, based primarily at Malongo, jointly. Luanda is powered by the Cambambe Dam on the Kwanza river. Implementing the Lusaka Protocol and rebuilding Angola's infrastructure will require financial resources far beyond Angola's capabilities. While Angolan cash and in-kind contributions to these efforts will amount to over $370 million, the international community's support and assistance for the peace process is vital to its success. Major International Donors and NGO partners are currently working in Angola to ensure a successful transition to peace.
In the years immediately after independence, economic development was stunted by the departure of 700,000 Portuguese who controlled the government and most of the economy. Thereafter, a quarter century of civil war reduced the country to ruins. Although a comprehensive ceasefire has proved elusive (see History), some years of relative stability during the 1990s have allowed some economic development to take place.
Agriculture employs over 50% of the population but production has declined so much that, from being a net exporter, Angola now imports over half its food requirements. Fishing, which almost ceased to exist, is now being rejuvenated with foreign aid. Gulf Oil and Texaco have developed major oil fields off the shore of Cabinda (an enclave in the north of the country) but Angola has only one refinery and so exports most of its oil in the crude form. The only other industry of any size is diamond mining, which has been a vital source of revenue for both sides in the civil war. Angola's largest trading partners are Portugal, Brazil, France and the USA, from whom it imports much of its food and almost all its manufactured equipment.

History:
In 1576, Angola was founded by the Portugese, and then developed into the governmental center of the colony in 1627. Slaves were taken to Brazil from here. Angola became independent in November 1975 after almost 500 years of Portuguese rule. The Popular Movement for the Liberation of Angola (MPLA) and the National Union for the Total Independence of Angola (UNITA) fought together for independence but then turned their guns on each other. The MPLA prevailed and its leader Agostino Neto formed a government. Civil war has continued in Angola, despite a succession of peace accords brokered by the United Nations. During the war for independence, all but a few of the 335,000 Portuguese who had settled in the territory left, taking with them the skills needed to run the economy. This lack of capacity has further exacerbated Angola's political and economic woes.

Transfrontier Park:
The area surrounding the Okavango-, Kwando- and Zambezi Rivers, has been described as the "Eden of Africa" as long ago as in the beginning of the previous century. Since then very little and very much has changed. Much has changed in this sense that the areas has been carved up into 5 different countries and has experienced the scourges of war. Little has changed in this sense that hardly any development has taken place and the border is often just a line drawn on a map - still peoples and wildlife co-exist in harmony and trek across borders at will.
This amazing area varies from the "Thirstland" of the Kalahari Desert, to the amazing Okavango Swamps and the tropical paradise around the world famous Victoria Falls. Large sections of this area has never been fully explored but more than 500 species of birds have been listed. The animal kingdom is truly remarkable with Sable antelope, Roan antelope, elephant, buffalo, hippopotamus and crocodile in abundance.
Read the full story CLICK HERE

<!====================================news=======================================>
Simeon Toko: Risen Son of Man or Myth?
:
May 13, 1917, the Lady of Fatima, Portugal, predicted the fall of Russia to communism, the end of the First World War, and the coming of the Second World War. John XXIII ordered the Third Secret sealed up in a vault "forever." THE THIRD SECRET OF FATIMA announces His birth, which occurred 9 months after her initial appearance and cites biblical passages that make a case that Simeon Toko was Christ Returned. Simeon Toko is the first among this raft of candidates to stand up to meticulous interpretations of biblical prophecy. Even the famous "like lightning from east to west" line, thought to mean that Christ appears somehow in a perpetual abstract, is covered by the Tokoists: the appearance of the Virgin at Fatima was preceded by lightning, flashing east to west every time. During the night of December 31st to January 1st, 1984, when the media announced the death of Simeon Toko, thunderclaps of virtually seismic force and torrential rain burst the skies of Luanda. It had not rained in this area for several years. Meteorologists were mystified. For three days the rain fell continuously. The occurrence of this event was attributed to all the rumours surrounding the death of this great prophet.
Simeon Toko was born on February 24, 1918, in a northern village in Angola. Not long after Simeon's birth, a missionary at a Baptist Missionary Society, based in Angola, had a dream. He dreamed that a Great King had been born in the region under his ministry. He decided to go looking for this baby. In 1949 Simeon Toko asked in his public prayer that the Holy Spirit manifest in Africa to put an end to the abuses of the colonial powers. Toko became a dedicated member of the Baptist Church in Itaga. He formed a singing choir of 12 people. Instantly this choir became famous and from twelve members it grew into hundreds. At each of the choir performances, whether at their church or while visiting another church, the Holy Ghost manifested strongly. On October 22nd, 1949 Simeon Toko started revealing Himself. Simeon Toko held up both hands, spread out his fingers, and told the abusive Belgian to count them. He said, "I give 10 years to the Belgians, not one more or less, to leave this country!" As for the other mysterious statement made by Simeon Toko: ten years later, in 1960, the Belgians were obliged to leave their rich colony of Congo. During a stay in Angola in 1994, a testimony of Pastor Adelino Canhandi was collected, who was a cook at the Caconda agricultural compound. He saw what happened. "When he was under the engine, the foreman, sitting in the driver's seat, started it up, which automatically activated the rotating blades of the seed sower. Simeon Toko's body was instantly severed in several pieces. Then the unbelievable happened. Before Canhandi and the two Portuguese accomplices, the body of Simeon Toko recomposed itself; Simeon Toko stood up".
Using a brief biblical quotation, Simeon Toko gave Pope John XXIII to understand that what the Pope had found in the note written by Lucia Dos Santos was true. Fearing Who it was now living among the most disdained people on earth, the Pope contacted the Portuguese dictator, Antonio de Salazar. "In the plane sat a Catholic priest and members of Salazar's secret police, PIDE-DGS, including the pilot and co-pilot. Their mission was to fly out over the Atlantic Ocean and after about an hour's distance, push Simeon Toko out of the plane into the deep sea. The moment the PIDE agents rose to subdue him and carry out their murder, Simeon Toko stood up and ordered the plane to stop. The aircraft stopped in midair. It stood still, not advancing an inch, nor rose or fell backward. The crew was stricken by panic. The priest could hardly breathe, and hoarsely huffed out desperate prayers. Simeon lifted his eyes and hands towards the heaven and after a short prayer he ordered the plane to move again. At once the plane started moving". Another story refers to a most remarkable attempt by some astonishingly misguided men to kill Simeon Toko under Dictator Antonio Salazar's orders. Some doctors found themselves reading the reports of his purported invulnerability. They thought they might pass the time by drilling for the secret, which seemed to protect the mysterious African man. They meant to perform an autopsy on a living human being. Under the pretext of removing a tumor in his chest, the doctors had Simeon Toko taken to hospital. They put him on an operating table, cut a jagged, mortal wound in the left side of the center of his chest, reached into his chest cavity, and pulled out his still-beating heart. The aorta and other arteries were severed by scalpel and his heart was removed. Simeon laid dead, his body covered with the warm blood that splashed out of his heart and chest. Simeon Toko came to on the operating table. To their horror and bewilderment, his heartless corpse was moving on its own volition. He opened his eyes, sat up and looked at them, the chest wound by which they had casually murdered him gaping open. "Why are you persecuting me this way?" he said to them. "Give me back my heart!"

BRUSSELS/BELGIUM: 30 April 2009:
BRUSSELS AIRLINES flies Africa

In 2002
SN Brussels Airlines
was created to continue in the steps of the two companies Sabena and DAT, who between them had an unequalled safety record.
BRUSSELS AIRLINES
was created following the merger of SN Brussels Airlines (SNBA) and Virgin Express. On 12 April 2005, SN Airholding, the company behind SNBA, signed an agreement with Richard Branson, giving it control over Virgin Express. On 7 November 2006, the new name, Brussels Airlines, was announced at a press conference at Brussels Airport. Brussels Airlines began operations on 25 March 2007. On September 15, 2008 it was announced that Lufthansa will acquire a 45% stake in Brussels Airlines with an option to acquire the remaining 55% from 2011. As a part of this deal Brussels Airlines will join Star Alliance. On March 13, Brussels Airlines announced that the airline will codeshare all their flights to Germany with Lufthansa. The codeshare agreement will start from March 29. This new step is part of the integration of Brussels Airlines into the Star Alliance network. Brussels Airlines becomes a Star Alliance member in 2009.
From 26 April 2002 SN Brussels Airlines opened frequent Africa connections and presently BRUSSELS AIRLINES serves safe and reliable flights to:
ANGOLA (Luanda) - BURUNDI (Bujumbura) - CAMEROON (Douala & Yaoundé) - CôTE D'IVOIR (Abidjan) - DEMOCRATIC REPUBLIC OF THE CONGO (Kinshasa) - THE GAMBIA (Banjul (Banjul) - GUINEA (Conakry) - KENYA (Nairobi) - LIBERIA (Monrovia) - RWANDA (Kigali) - SENEGAL (Dakar) - SIERRA LEONE (Freetown) - UGANDA (Entebbe)
For further information click here and please tell them we sent you!

<!===============================> LONDON, 28 September 2001: Angola's people are enduring a humanitarian catastrophe after three decades of war which have displaced almost a third of the population, Oxfam International warned in a new report. "The Angolan government does not spend nearly enough on humanitarian aid, despite the fact that millions are in need," the British-based charity said, also urging world leaders to step up pressure to end the war. On the strength of 12 years of relief work in Angola and interviews with displaced people, Oxfam estimated that "78 percent of the rural population lives in deep poverty, and one child in three never reaches the age of five." "And yet, Angola could be one of the richest countries in the developing world," the report said.
WASHINGTON, 24 September 2001: US President George W. Bush on Monday extended for another year sanctions imposed against rebels of the National Union for the Total Independence of Angola (UNITA). The White House said the president had concluded the rebel group continued to threaten the peace process in Angola. The 1993 sanctions banned arms and oil sales to UNITA and froze the group's assets in the United States.

THIS IS WHAT A VISITOR WROTE IN 2001 AFTER LIVING IN LUANDA FOR A WHILE
It is extremely expensive. I recall paying UKP17 for a cauliflower earlier this year. The town is filthy and full of ungrateful medicants. If you park your car on the marginal, it WILL be broken into, often by people you pay to guard it.
It is a bitter example of rich vs. poor - there is basically zero middle class, just obscenely wealthy people and obscenely poor ones. A gangster mentality prevails. By the end of my time I could no longer laugh at the state of the city, and no longer felt any PC desire to blame colonialism or something like that. It is an abomination that a country so wealthy allows so many of its citizens to live in misery and filth. There are around 3m people in a city built for around 100,000 forty years ago. Since the late years of socialism, there has been no improvement to infrastructure, only deterioration. Where I lived the water stopped flowing from the taps in 1989. Public Health is lacking.
The accommodation is mostly substandard, including for expats. You might get a good landlord - there are some complexes and some international companies have decent accommodation. Beware minor oil companies - you could end up in a real pit. Just ask who owns the place first. If it's an expat company or Teixeira Duarte, it'll be in good nick. If it's rented from a local guy who got it through the commie reallocation of property, the chances are that your own employer will have to pay for its upkeep - do you trust them to do this properly?
If you're British, you're probably in oil or customs. If you work for Crown Agents, don't expect to be the expat King lauding it up. I hear, unofficially, that their expat salaries are around the lowest as they employ a lot of Aussies and South Africans for whom forex is more valuable than it is to Brits.
But, if you are working for BP or something, you could well live in a huge mansion with easy transport 24 hours a day and have stacks of cash. If you can isolate yourself from what is around you easily, you might enjoy it. I found it fun for eighteen months. At the end of four years I was somewhat sickened of being intimidated, threatened and lied to by a lot of people we did business with, and also fed up with slimy grotesquely wealthy show-offs sucking up or attempting to suborn on the other side.
On 11th November 1975 Angola obtained its independence in the middle of the most total chaos, and violent fighting which has continued in one form or another until today. Although the country has enormous potential it has been destroyed by war. The MPLA were able to gain a military advantage and formed a government. In the following years South African forces occupied Angolan territory a number of times to support UNITA. The UN Security Council demanded South African withdrawal from Angola in 1983. South Africa agreed to withdraw if Angola stopped supporting SWAPO in Namibia, but in 1985 South Africa launched another invasion, after an MPLA attack helped by 50,000 Cuban troops. The first attempt at peace resulted in a meeting between President dos Santos and the UNITA leader Jonas Savimbi. Elections were held in September 1992 and were won by dos Santos and the MPLA. UNITA rejected the result and went back to war. On 15 September 1993 the UN Security Council imposed sanctions on UNITA. On 8th February 1995 a 7,000 strong peacekeeping force was sent to oversee the demobilisation of troops on both sides. This task was completed on 5 August 1995. Although both sides were publicly committed to the peace process, and regular negotiations took place progress was slow and the UN threatened further sanctions against UNITA unless it took "concrete and irreversible steps" to implement its obligations. By 30 October 1997 UNITA had still not complied and new sanctions were imposed. More sanctions were imposed in 1998. In the meantime the security situation in Angola has got worse. In September 1999 the Angolan Armed Forces attacked UNITA forcesand managed to take the UNITA strongholds of Andulo and Bailundo. Recent reports suggest that fighting continues in some areas. In the meantime, refugees are crossing the Angolan border into Zambia and Namibia to escape from the fighting.
"Seb from Australia"

Last update: 30 April 2009