<!=========================DADIS FOR PRESIDENT===============================>
Conakry, Monday 31 August 2009
:
DADIS FOR PRESIDENT
At the meeting of national interest concerning the transition in Guinea on Monday 31 August 2009, in Palais du Peuple in Conakry by the National Council for Democracy and Development (CNDD), including local elected officials, presidents CRD, the leaders of neighborhood councils and mayors of municipalities in the country have expressed their support for the candidacy of President of the CNDD, captain Moussa Camara Dadis, to run in the presidential election scheduled for January 2010.
In a joint statement read by the mayor of Kankan Moussa Diarra, representatives of local communities have expressed their deepest appreciation for the actions of the CNDD and its president since they came in power of the new authorities at December 23 - 2008, including the improvement of living conditions of people, the fight against drug traffickers, organized crime and fiscal consolidation ("Mains propres").
They estimated that for building a participatory democracy, no candidate in the next election should be excluded, while expressing their determination to support the CNDD and its President in pursuit of actions for the well being of Guineans.
In a true democracy everyone can run for president just like in any other democratic country around the globe. Guinea has never interfered with democratic processes in other countries, and hopes for the same respect from the International Community. That is where democracy is all about!
---
<!=========================AFC===============================>
Conakry, 19 August 2009
: Guinea Joins Continent-Wide Finance Corporation
Lagos — Guinea-Conakry, Sub-Saharan Africa's leading producer of bauxite, has joined the Africa Finance Corporation (AFC), the Prime Minister of Guinea-Conakry, Kabine Komara signed the instrument of accession and acceptance of membership of the body on behalf of the Government of Guinea-Conakry in Lagos recently.
The Prime Minister, accompanied by the Minister of Finance and the Guinean Ambassador to the Nigeria, welcomed the operations of AFC as "a development that would help in accelerating economic growth and capacity development in Guinea-Conakry. Africa has been in need of an international organisation of this calibre, driven by capable African professionals that will make the advancement of African infrastructure a priority.
The AFC's strong focus in infrastructure development is validation of the value of such an international organisation, and explains why Guinea-Conakry is delighted to be joining as a member."
Speaking at a reception hosted by AFC in honour of the delegation, Mr. Solomon Asamoah, Deputy CEO of AFC, warmly welcomed the Prime Minister and his delegation on behalf of the AFC's Board of Directors and its President and CEO, Mr Andrew Alli. Asamoah said, "the AFC is delighted to have Guinea-Conakry as a member of the organisation. We are committed to helping the country develop its industrial and infrastructure assets to drive economic growth."
Asamoah described Guinea-Conakry membership as significant in AFC's quest to be a leading Pan African investment bank.
---
<!=========================Elections===============================>
Conakry, 17 August 2009
: Elections postponed
After several months of discussion, on Monday 17 August the decision fell that the Presidential and legislative elections are postponed to 2010.
The new timetable, the order of the ballot for the presidential elections before the parliamentary elections.
31 January 2010 First round of presidential elections
26 March 2010 Parliamentary elections
Preliminary steps include:

August 2009: Establishment of the National Transition Council (CNT)
September 2009: Identification of Guineans abroad
October 2009: Publication of provisional voters
November 2009: Publication of final electoral rolls
December 2009: Printing of the voting cards
January 2010: Distribution of registration cards
---
<!=========================AWARD===============================>
Conakry, Saturday 09 August 2009
: President Dadis receives prestigious award.
On Saturday 8 August the meeting room of the Palace of People hosted the official ceremony at which His Excellency the President of Guinea, Moussa Dadis Camara, received the prestigious 2009 Grand Prize of Africa- the Oscar for African Managers, for his outstanding efforts to fight corruption and drug trafficking. In the presence Head of State of Senegal, Abdoulaye Wade, the President of CIMA (International Council of Managers African), Mr. Sy Sidy Abdallah, handed out the award to President Dadis. At this occasion President Abdoulaye Wade said that if all African presidents were as captain Moussa DADIS, Africa would have solved problems to finally get rid of drug problems and begin a persistent process of rapid development and harmony.
---
<!=========================WADE===============================>
Conakry, Sunday 26 July 2009
: President Abdoulaye Wade visits Guinea.
On Sunday 11 July 2009 His Excellency Mr. Abdoulaye Wade, president of Senegal, again confirmed his support to President Dadid Camara's Government during his visit to Guinea to discuss the issue of the coming elections. During his stay he called President Dadis his son what emphasizes the friendly relationship between both leaders.
---
<!=========================UNESCO===============================>
Conakry, Saturday 18 May 2009
: President DADIS Camara receives important Order
To appreciate the efforts of the CNDD and its President in the fight against drugs, drug addiction, Captain Moussa DADIS Camara was honored by UNESCO in the Congress Hall of Palace du Peuple on Saturday 18 May 2009. President Moussa DADIS Camara was raised to the dignity of Grand Officer of l'Ordre National du Mérite and recognized as Grand Master of the National Orders by the Grand Chancery.
Mr. Zuma, representative of Director-General Koshiro Matsura, the Secretary General of UNESCO, outlined the efforts made by the United Nations for the fight against drugs through the creation of structures, commissions, instruments and ratification of conventions related to the fight against drugs. He especially mentioned President Captain Moussa DADIS Camara's personal commitment in the fight against drugs and encouraged him to continue his efforts to provide sanitation and improving the quality of the school environment, training of teachers and their working conditions.
After these ceremonies the Head of State received the Certificate of Recognition awarded by the United Nations Education, Science and Culture.
President Moussa DADIS Camara reiterated the commitment of the new Guinean authorities and the people of Guinea as a whole for further action in the fight against insecurity, drugs and narcotics as well as for the restoration of the State authority, the moralization of public administration and finance as well as the promotion of social dialogue. He particularly stressed the need for all world leaders to give priority to the fight for the preservation of youth.
---
<!=========================Elections===============================>
Conakry, Monday 18 May 2009
: ECOWAS allocates USD38million to monitor elections in Guinea!
Ambassador Bagudu Hirse, Minister of State for Foreign Affairs of Nigeria, has said about $38 million has been budgeted by the Economic Community of West African State (ECOWAS) for Republic of Guinea's legislative and presidential elections. The legislative election has been scheduled for October while the presidential poll will take place in December 2009.
Imagine what the Guinea government could do with such fund! Reduce poverty, create jobs and improve infrastructure!!!
---
<!=========================Ellen===============================>
Conakry, Saturday 16 May 2009
: President Ellen Johnson-Sirleaf visited President Dadis Camara
Liberian President Mrs. Ellen Johnson-Sirleaf visited Guinea to have a first friendship meeting with His Excellency President Dadis Camara. Mrs. Johnson expressed her serious intention to work close with the President of Guinea to strengthening the cooperative relations between the two countries.
---
<!===========================AMBASSADORS=========================>
Conakry, May 2009
: By presidential decree 30 ambassadors have been called back to Conakry.
LIST
Mr. Lansana Gaucher Keita, ambassadeur de Guinée à Londres, Grande Bretagne
Ambassador of Guinea in London, Great Britain
Mr. Abdoul Aziz Soumah, ambassadeur de Guinée à Tripoli, Libye
Ambassador of Guinea in Tripoli, Libya
Mr. Alpha Ibrahima Sow, représentant permanent auprès des Nations Unies à New York
Permanent Representative to the United Nations in New York
Mr. Mohamed Sampil, ambassadeur de Guinée à Kuala Lampour, Malaisie
Ambassador of Guinea in Kuala Lampour, Malaysia.
Mr. Mohamed Lamine Touré, ambassade de Guinée à Tokyo, Japon
Guinea Embassy in Tokyo, Japan
Mr. Frederick Bangoura, ambassadeur de Guinée à Accra, Ghana
Ambassador of Guinea in Accra, Ghana
Mr. Fodé Touré, ambassadeur de Guinée à Brasilia,
Ambassador of Guinea in Brasilia, Brazil
Mr. Mohamed Lamine Somparé, ambassadeur de Guinée à Freetown, Sierra Leone
Ambassador of Guinea in Freetown, Sierra Leone
Mr. Ibrahima Sory Traoré, ambassadeur de Guinée au Caire, Egypte.
Ambassador of Guinea in Cairo, Egypt.
Mr. Cheick Mohamed Camara, ambassadeur de Guinée à Addis Abeba et repésentant auprès de l'Union Africaine en Ethiopie.
Ambassador of Guinea and representing Guinea in Addis Ababa with the African Union in Ethiopia.
Mrs. Makalé Camara, ambassadeur de Guinée à Paris, France
Ambassador of Guinea in Paris, France
Mr. Issiaga Kourouma, ambassadeur de Guinée à Belgrade, Serbie
Ambassador of Guinea in Belgrade, Serbia
Mr. Abdoulaye Doré, ambassadeur de Guinée à Monrovia, Liberia
Ambassador of Guinea in Monrovia, Liberia
Mr. Thierno Mamadou Cellou Dalein Diallo, ambassadeur de Guinée à Rome, Italie.
Ambassador of Guinea in Rome, Italy.
Mr. Mohamed Camara, représentant permanent de la Guinée à Genève, Suisse
Permanent Representative of Guinea in Geneva, Switzerland.
Mr. M. Ibrahima Sory Soumah, ambassadeur de Guinée à Libreville
Ambassador of Guinea in Libreville Gabon
Mr. Mory Karamoko Kaba, ambassadeur de Guinée à Washington, USA
Ambassador of Guinea in Washington, USA
Mr. Ousmane Camara, ambassadeur de Guinée à Alger, Algérie
Ambassador of Guinea in Algiers, Algeria
Mr. Mamadouba Diabaté, ambassadeur de Guinée au Maroc
Ambassador of Guinea to Morocco
Mr. Gaoussou Touré, ambassadeur de Guinée à Prétoria, Afrique du Sud
Ambassador of Guinea in Pretoria, South Africa
Mrs. Hadiatou Sow, ambassadeur de Guinée à la Havane, Cuba
Ambassador of Guinea in Havana, Cuba
Mr. Tamba Milimono, ambassadeur de Guinée en Guinée Bissau
Ambassador of Guinea in Guinea Bissau
Mrs. Makhissa Camara, ambassadeur de Guinée, Côte d'Ivoire
Ambassador of Guinea, Ivory Coast
Mr. Ahmed Tidiane Sakho, ambassadeur de Guinée à Bruxelles, Belgique
Ambassador of Guinea in Brussels, Belgium
Mr. Koumba Diakité, ambassadeur de Guinée à Dakar, Sénégal
Ambassador of Guinea in Dakar, Senegal
Mr. Amiral Amara Bangoura, ambassadeur de Guinée en Russie Admiral
Ambassador of Guinea in Russia
Mr. Abdoul Karim Dioubaté, ambassadeur de Guinée à Teheran, Iran Dioubaté
Ambassador of Guinea in Teheran, Iran
Mr. Aly Ibrahima Sylla, ambassadeur de Guinée à Abudabi, Émirats Arabes Unis
Ambassador of Guinea to Abudabi, United Arab Emirates
Mr. Cheick Abdoul Camara,ambassadeur de Guinée à Abuja, Nigeria
Ambassador of Guinea in Abuja, Nigeria
Mr. Mamadi Diaré, ambassadeur de Guinée à Pekin, Chine
Ambassador of Guinea in Beijing, China.
---
<!=========================eu===============================>
Conakry, Friday 1 May 2009
: Louis Michel welcomes the outcome of consultations between the EU and Guinea
Louis Michel, European Commissioner for Development and Humanitarian Aid, welcomed Thursday the results of last Wednesday's opening of negotiations between the European Union and Guinea in which Guinea has adopted a roadmap for the consensual elections on October 11 and presidential elections and 13 December 2009.
"Guinea is a strategic country for stability in the sub region of West Africa. The output on the current crisis between the EU and Guinea is of major importance. In this context, I wish to commend the work done by the African Union and the Economic Community of West African States (ECOWAS) through the International Contact Group for Guinea in which the European Commission also participates actively. I send my encouragement to continue on this path, "said Louis Michel.
---
<!=========================link===============================>
Conakry, Monday 19 January 2009
: President Dadis meets his new government team
President of Guinea and Commander in Chief of the Armed Forces, Captain Dadis Moussa Camara received the new government team this afternoon at Bataillon Spécial in Conakry.
By decree of 14 January 2009, His Excellency Captain Musa Camara Dadis, Président de la République/Chef de l'etat, President of the Republic/Head of State, Président du CNDD, President of CNDD, Commandant en Chef des Forces Armée, Commander of the Armed Forces, announces the appointment of the members of the government of the Third Republic of Guinea:
<!=========================link===============================>
---
<!======================================================================================================>
Abuja/Nigeria, 09 January 2009
: Former Nigerian President General Ibrahim Babangida Endorses Coup .
Guinean military leaders deserve the sympathy of African countries.
The former president of Nigeria, General Ibrahim Babangida, who led a presidential delegation to Guinea said they met all the stakeholders in the course of pressing the need for the junta to accept the Nigerian government nine-month deadline. He noted that the situation in Guinea before the coup was dangerous and that the country could have slipped into anarchy as the tenure of the Guinean parliament expired two years ago, while late president Lansana Conte did not deem it fit to approach the electorate to renew its mandate. Babangida further explained that the country's General Election was planned for May 2009and that when Conte died, there was no legitimate successor to the president. Commenting on the recent declaration by the minister of Foreign Affairs, Chief Ojo Maduekwe that the Nigerian Government will not recognise the military Junta in Guinea, Babangida said the minister probably made the declaration because he had no clue as to what was on the ground in Guinea. The former military President stated that there was real genuineness on the part of the military rulers to institute sustainable democracy for the rapid socio- economic development of Guinea . He noted that President Umaru Yar'adua as the chairman of ECOWAS must assist the military Junta in Guinea to achieve this objective. According to him, "they need the help and support of other African countries." The minister of state for Foreign Affairs, Ambassador Bagudu Hirse who was in the presidential delegation, said the Guinean military leaders deserve the sympathy of African countries.
---
<!===========================================================================>
Conakry, 05 January 2009
: Alain Joyandet, France's secretary of state for cooperation.
France has offered to help Guinea to organize this year's vote.
Guinea's military leaders plan to hold elections by the end of 2009, said Alain Joyandet, France's secretary of state for cooperation. Joyandet traveled to the capital, Conakry, on Jan. 3 and held talks with President Moussa Dadis Camara as well as representatives of civil society and other political parties, Joyandet told reporters in the city. President Camara was "very clear by asserting that he completely agreed that elections, legislative and presidential elections, take place in the next 12 months" Joyandet said.
France has offered to help Guinea to organize this year's vote, Joyandet said.
---
<!========================================================>
Conakry, 28 December 2008
: President Abdoulay Wade.
Guinea junta deserved support.
Senegal's President Abdoulaye Wade had in a comment broadcast on Radio France International December 28, 2008 said the Guinea junta deserved support. "President Captain Moussou Dadis Camara is a young man who seemed sincere in what he said. My feeling is that this group of military men deserves support," he had said. Senegal's According to BBC World Service, President Wade has urged the world community to recognise Guinea's new military junta.
---
<!==============================================================>
Conakry, 28 december 2008
: Nieuwe President.
Guinée heeft een nieuwe president, Zijne Excellentie Moussa Dadis Camara.
Guinee staat aan de vooravond van grote politieke en economische veranderingen na de dood van President Conté. Leger kapitein Moussa Dadis Camara heeft op dinsdag 23 december 2008 de zware taak op zijn schouders genomen om Guinée als derde president van de Republiek te gaan leiden met het doel Volk en Vaderland te behoeden van totale chaos die dreigt wanneer er een bestuurlijk vacuüm zou ontstaan. Natuurlijk werd deze actie onmiddellijk veroordeeld door bepaalde (groot)machten die enkel eigenbelang hebben bij het zeker stellen van grondstoffen en olievoorraden en niet het belang van het volk voorop stellen. Dat is aan de Guinezen om dat te waarborgen en daarvoor heeft het een sterke leider nodig die Guinee een transparante democratie kan brengen. Wanneer dit lukt door middel van een vreedzame machtsgreep dan heiligt het doel de middelen. Na jarenlange uitholling van de economie kan het er alleen maar beter op worden. Laten we waken dat bepaalde krachten de stabiliteit van het land in gevaar proberen te brengen om eigen pretendenten op de troon te plaatsen en geef het volk van Guinée het vertrouwen en de steun om in deze moeilijke tijden de vrede te handhaven en juiste keuzes te maken. Wanneer het volk zich achter haar leider schaart en de leider het volk op een vreedzame wijze naar voorspoed en geluk leidt dan verdient dit de onvoorwaardelijke steun van eenieder, zonder enige uitzondering. Laat Guinée zelf bepalen hoe zij in de komende tijd haar weg wil volgen op een eigen Guinéese wijze.
MOGE GOD GUINÉE BESCHERMEN, ELHAMDULILAI. LANG LEVE GUINÉE.
PRESIDENT ELHADJI LANSANA CONTÉ OVERLEDEN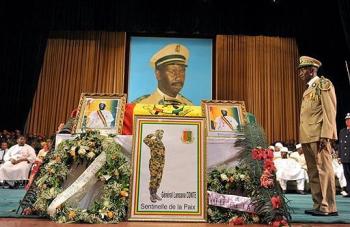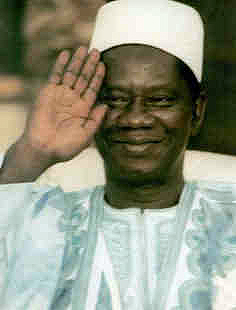 Conakry 22 December 2008: Na een kortstondig ziekbed van 10 dagen is vanavond rondom 18.00 uur Zijne Excellentie de President van Guinée, Brigade Generaal Elehadji Lansana Conté, op 74 jarige leeftijd een natuurlijke dood gestorven. Een algemene rouw voor onbepaalde tijd is afgekondigd. Op vrijdag 26 december heeft Guinee afscheid genomen en is de voormalige President begraven in zijn geboorteplaats Moussayah/Dubreke.

<!-===============pay off============>
---