| | | |
| --- | --- | --- |
| | CAMEROON | |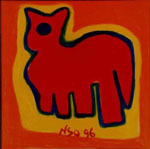 ©art: Nso Abomo Marthe
Official Name(s)
République du Cameroun
Located
Central Africa: Nigeria, Chad, Congo
Capital
Yaoundé
Head of State
President Paul Biya

Area
475,500 sq km
Population
13.6 million
Growth rate
2.8%
Languages
24 major African language groups, French & English
Currency
Central African CFA francs
GNP per capita
$8,615
Inflation
7%
Airlines

from Europe & U.S.A.: Brussels Airlines
from Asia: ________________
from USA: ________________
Hotels
(advertise here)
Names & Rates per night
______________________
______________________
USAfrica Agent
________________
Country Advertiser
If you want to become
the Country Advertiser
your logo comes here.
---
| | |
| --- | --- |
| <!==============================================> | |
Located in the Gulf of Guinea, Cameroon lies at the intersection of West Africa and Central Africa. The north of Cameroon is dry and contains vast savannas, whereas the south is home to dense tropical forest. Ecologically and culturally, Cameroon is extremely rich. It contains more than 200 ethnic groups, and a particularly high biodiversity, especially in terms of its flora. The European powers' "scramble for Africa" movement in the late 19th century was the beginning of a long period of colonialism in Cameroon. Since then, the country has been renamed several times, each by a different colonizer. When World War I ended, the country was split into British Cameroon in the south and French Cameroon in the north. In 1961 the country was reunited, and the Federal Republic of Cameroon was declared. Behind this political turmoil lives some 200 cultural groups. A gentle but resilient people, they are slowly shaking off the colonial influences still visible in their society. Today, a strong national identity has emerged, binding north and south Cameroonians into one.

©2002: Tourist Office



Mindy Compound
©2002: African Studies Program



©2002: Tourist Office


Crossing Cameroon you come across great varieties of vegetation, from savannah around the shores of Lake Chad, to equatorial forests in the south-east of the country. It is one of the most geographically diverse countries in Africa, comprising three major zones: the northern savannah, the southern and eastern rainforests, and the north-western hill region near Nigeria. Because of its great geographical and cultural variety, Cameroon is sometimes called "Africa in miniature". Cameroon's valuable rain forests contain a number of species of trees, including oil palms, bamboo palms, mahogany, teak, ebony, and rubber. Wildlife is diverse and abundant and includes monkeys, chimpanzees, gorillas, antelope, lions, and elephants, as well as numerous species of birds and snakes. Sweltering rainforests and strutting sultans, game parks and grilled chicken: Cameroon is one of Africa's most naturally and culturally diverse countries. The population is composed of over 130 different ethnic groups speaking dozens of languages. Mt Cameroon not only is West Africa's highest mountain but also is the only still active volcano in Africa. The national team became Olympic Champion Football 2000. Soccer and basketball are immensely popular, and village pick-up games aren't hard to find, especially if you bring your own ball. Cameroon has achieved one of the highest rates of school attendance in Africa, although the literacy rate is still just 54 percent.
Islam and Christianity compete for souls with an array of traditional animist beliefs. Outside of the swelling and modernised cities of Yaoundé, the capital, and Douala, the largest city and industrial centre, rainforests stretch north from the Atlantic Ocean, giving way to savannah and semi-desert in the north. Elephants and bongos congregate by the hundreds in some of Africa's best game parks, and beachcombers laze on long, isolated beaches. Little is known about Cameroon before 1472 when the Portuguese arrived shouting 'Camarões, camarões!' in amazement at the many giant shrimp - hence the country's name.

Travel Warning!


Mount Cameroon Panorama View
©2002: Ann Bowker

"Neighbouring Nigerian government warned on 5 September 2001 that Mount Cameroon could erupt before year end of 2001, spewing deadly gases that could kill any living thing in the area". The government has received a scientific report about seismic movements on Cameroon Mountain which could result in volcanic eruption before the year 2001 runs out. Already in June 2000, scientists monitoring the volcano warned those living on its flanks to be vigilant as there were signs that it was extremely unstable.

Cameroon made international headlines in 1986, when a toxic cloud erupted from a remote volcanic lake in the western mountains, asphyxiating nearly 2000 people in their sleep. The last previous eruption was in 1982 during the filming on the mountain of Greystokes The Legend of Tarzan. The local villagers hold the mountain in awe, and it is believed that an eruption is caused by either the death of a chief, or the presence on the mountain of outsiders. The scientific explanation holds little credibility in the region. By coincidence a chief has died prior to the last two eruptions, reinforcing tribal beliefs. Mount Cameroon last erupted in May 1999, spewing lava for about two weeks from several vents and craters, but claiming no human casualties.


Mount Cameroon
©2002: Ann Bowker



Mount Cameroon
©2002: Ann Bowker



Mount Cameroon
©2002: Ann Bowker


Culture:

Chuteb
©2002: Tourist Office



Tribal Dance
©2002: Tourist Office


The music of Cameroon is among the most popular in Africa, especially makossa, a popular dance rhythm you'll hear blaring out of clubs and discos. Makossa is adaptable to a wide variety of instrumentation, from traditional thumb pianos to guitars and synthesizers. Manu Dibango brought the style to international prominence in the early 1970s; now Sam Fan Thomas is the king of makossa. Another popular dance music is bikutsi, typically sung in Ewonde.

Cameroon has a less well-known palm wine capital, Batibo, in the north-west province. Batibo with 80,000 people is a relatively big cluster of villages located some 40 kilometres from the provincial capital, Bamenda. The area produce between 7,000 and 10,000 litres of palm wine daily for sale across the country. Palm wine is locally known as "fitchuk" and every Batibo man drinks it. The palm wine is made from raffia palms and does have a high percentage of alcohol. To marry a Batibo girl, all suitors must provide a mandatory 10 litres of palm wine, which the bride must share with the groom as a sign that they will share everything as married partners. The suitor also has to take along an assortment of other good, including beer, salt and oil to his future in-laws, but palm wine must always be included.
On 20 December there is a huge feast and festival with many masks and costumes in Bafut, north of Bamenda and in Bali (west of Bamenda) 20 to 22 December. After New Year's Day, the first major event of the year is the Mt Cameroon Race, held in late January. This 27km (17mi) race up and down the 3000m (10,000ft) mountain is Africa's toughest. The Muslim Feast of Ramadan, which changes dates from year to year, signals the end of a month of daily fasts and is celebrated all over Cameroon, most notably in Foumban, where horse races, processions and dances are part of the festivities. Muslims in northern and western Cameroon also celebrate Tabaski in February or March, when celebrations include a parade of marabouts (wise men and fortune-tellers). The country's major non-religious holiday is the Cameroon National Festival, held on 20 May. The best place to witness it is Maroua. Horses race through the streets of Kumbo, a town in western Cameroon, during Nso Cultural Week, held in mid-November.




Yaoundé
©2002: Unknown



Douala
©2002: Unknown


Yaoundé:
Yaoundé is the capital of Cameroon, and its largest city. It is located in the south-central part of the country. It is also spelt as Yaunde. The city was founded in 1888 under the Germans and was later occupied by the Belgians, and then the French. For a while, Douala became the capital of French Cameroun, but things began to change after Cameroon's independence. By 1972, Yaoundé had become the capital of the country and the seat of the government once again. Today, the city is an important center for administration, service, commerce and communication. There are also manufacturing and processing industries. Over 800,000 people live in the city, which is green, hilly and picturesque. Important institutions in the city include the University of Yaoundé, schools of education, agriculture, health, engineering, administration and other fields, research institutes like The Pasteur Institute of Cameroun, national archives, library, and others.
There is a huge and bustling market called the Marché Central. On Sundays there always is open-air mass outside the Paroisse de N'Djong Melen in Ayounda at 9.30 am to noon, and is a fantastic blend of African and western culture, with African music, drums, dancing and women's chorus. At its northern end are the Place Kennedy and the Centre Artisinal, a giant tent filled with local artisans and their handicrafts. The lively African quarters of Messa, Mokolo and Briqueterie, a few kilometres northwest of downtown, are where you'll find many of the city's unlicensed chicken houses, serving the best-grilled chicken this side of the Côte d'Ivoire. A few kilometres north of the city centre is the Benedictine Monastery's Musée d'Art Cameroonais, a highlight of any visit to the capital. Despite its small size, it's got one of the best collections of Cameroonian art in the world, including masks, bowls and Bamoun bronze pipes. Even the monastery's chapel is decorated with a beautiful array of local textiles and crafts. The monastery is near the foot of Mt Fébé and is accessible by bus or taxi from downtown.

Douala:
Douala is the largest city and industrial center of Cameroon. It has a delightful, tropical ambience not unlike Singapore before the high-rise boom - leafy, colonial decay rubs shoulders with modern, marble facades of banks, 5 star hotels and business houses. It's a very lively and cosmopolitan city. Douala has some very successful local Cocoa exporter.

Economy:
Cameroon is one of the wealthiest African countries, with a gross national product similar to that of Nigeria, its powerful neighbour. Because of its oil resources and favorable agricultural conditions, Cameroon has one of the best-endowed primary commodity economies in sub-Saharan Africa. Still, it faces many of the serious problems facing other underdeveloped countries, such as a top-heavy civil service and a generally difficult climate for business enterprise. Over 80% of the inhabitants of Cameroon work on the land, however petroleum products constitute more than half of all exports.
Cameroon is amongst the top twenty producers in the world for seven agricultural products, from manioca to cocoa and coffee. Only 32% of the country is farmed, while 63% is covered in forests. Only 5% is farmed with modern farming techniques. The principal commercial crops in Cameroon are cocoa, coffee, tobacco, cotton, and bananas. Rubber, palm products, and sugarcane are also grown commercially. Subsistence crops include plantains, sweet potatoes, cassava, corn, and millet. Livestock is important in the Adamawa Plateau region.
There is a large aluminium refinery which produces 16% of all refined alluminium in Africa. High-yield deposits of bauxite exist in northern Cameroon. The refinery, working with aluminium shipped from Ghana and Marseilles, consumes 70% of all the electricity produced in the country. As the road system is developed, the timber industry seems set to expand through the export of valuable woods such as mahogany, ebony, and teak.
Agriculture products: coffee, cocoa, cotton, rubber, bananas, oilseed, grains, root starches; livestock; timber.
Exports: $2 billion (f.o.b., 1999).
Export commodities: crude oil and petroleum products, lumber, cocoa beans, aluminum, coffee, cotton.
Export partners: Italy 25%, Spain 20%, France 16%, Netherlands 7% (1997 est.).
Import: $1.5 billion (f.o.b., 1999).
Import commodities: machines and electrical equipment, transport equipment, fuel, food.
Import partners: France 25%, Nigeria 8%, US 8%, Germany 6% (1997 est.).

History:
In 1884 Germany established a protectorate over the Douala area which it ruled until World War I. At the end of the war, the country was divided between Britain and France. The French-administered region was granted self-government as the Republic of Cameroon in December 1958, and Ahmadou Ahidjo became the country's first president. Full independence and UN membership was achieved in 1960. In 1961, British Southern Cameroon was federated with the Republic of Cameroon, while British Northern Cameroon joined Nigeria. Mr. Ahidjo remained president from independence until his resignation in late 1982. He was succeeded by Paul Biya, the former prime minister, who has remained in office through four successive elections.
The inhabitants of Cameroon have always shown great loyalty towards France, and have often been used as auxillary troops during the colonisation of other African countries. This has earned them the hostility of neighbouring countries. At the same time they were among the first countries to aspire for independence, and in 1948 founded the People's Union of Cameroon, which was soon dissolved by the French administration. The French encouraged the formation of a moderate movement, the National Union of Cameroon, and its leader, Ahmado Ahidjo beame the first head of state when Cameroon became independent in 1960. In 1961 ex-French Cameroon united with part of ex-British Cameroon and formed a federal state. In 1982 Ahidjo handed over power to the Prime Minister, Paul Biya, but democratic politics were not allowed until 1991 when Biya was re-elected. He was returned to power in the 1997 presidential elections, which were criticized as not being fair and impartial by outside observers and the country has a poor human rights record.
Enabling us to improve the quality of the content, if you have additonal information, remarks or suggestions, please share it with us by e-mail.

<!====================================news=======================================>
BRUSSELS/BELGIUM: 30 April 2009
: BRUSSELS AIRLINES flies Africa

In 2002
SN Brussels Airlines
was created to continue in the steps of the two companies Sabena and DAT, who between them had an unequalled safety record.
BRUSSELS AIRLINES
was created following the merger of SN Brussels Airlines (SNBA) and Virgin Express. On 12 April 2005, SN Airholding, the company behind SNBA, signed an agreement with Richard Branson, giving it control over Virgin Express. On 7 November 2006, the new name, Brussels Airlines, was announced at a press conference at Brussels Airport. Brussels Airlines began operations on 25 March 2007. On September 15, 2008 it was announced that Lufthansa will acquire a 45% stake in Brussels Airlines with an option to acquire the remaining 55% from 2011. As a part of this deal Brussels Airlines will join Star Alliance. On March 13, Brussels Airlines announced that the airline will codeshare all their flights to Germany with Lufthansa. The codeshare agreement will start from March 29. This new step is part of the integration of Brussels Airlines into the Star Alliance network. Brussels Airlines becomes a Star Alliance member in 2009.
From 26 April 2002 SN Brussels Airlines opened frequent Africa connections and presently BRUSSELS AIRLINES serves safe and reliable flights to:
ANGOLA (Luanda) - BURUNDI (Bujumbura) - CAMEROON (Douala & Yaoundé) - CôTE D'IVOIR (Abidjan) - DEMOCRATIC REPUBLIC OF THE CONGO (Kinshasa) - THE GAMBIA (Banjul (Banjul) - GUINEA (Conakry) - KENYA (Nairobi) - LIBERIA (Monrovia) - RWANDA (Kigali) - SENEGAL (Dakar) - SIERRA LEONE (Freetown) - UGANDA (Entebbe)
For further information click here and please tell them we sent you!

Cameroon trip 10 years ago: Source unknown!
In the north, I traveled with a friend living there, so we used his car. But there are "taxi brousse" (peugeot) everywhere. I visited La Benoue and Waza. As far as I remember, it was necessery to have your own vehicle to visit them. La Benoue is quite densely forested so it's not easy to see animals but you should see many antilopes, baboons (around the - very pleasant - cottages of the "campement") and hippos in the river. It is a very pleasant stop on the way to the north. Waza is easy to reach (the main entrance is close to the main road). We saw huge herds of elephants (we even approched e few of them walking with our guide), girafes, antilopes, ostriches, warthogs, many birds... and a few lions (we were lucky). We camped close to the park entrance. You should check if the park it's open in october (it may open in november).
An other major interest of northern Cameroon is the people (bororos, foulbes...). The markets are colourful and very different of what you can see in Eastern Africa. Go to Oudjila or Rumsiki in the Kapsiki area (around Mokolo). The landscape is beautiful. People are friendly (but be prepared to be followed by the kids !).

Last update: 30 April, 2009