MAGNUS
AFRICAN R&B

<!===================text==================>

MAGNUS was born and baptised in 1981 in Yekepa, Nimba County Liberia, as Magnus G. Wheagar. After some wandering around, hiding in the rural forest of West Africa, constantly on the run to save his live as Liberian Refugee, presently 26 year old R&B singer and composer Magnus lives in Guinea to record his educative songs on love, AIDS/HIV and humanity in general.
As result of his engagement with humanitarian issues he worked 2 years with the USA ARC (American Refugee Committee) NGO in the Guinea/Ivory Coast bordertown N'Zerekore in its HIV/AIDS program as I.E.C. Specialist (Information - Education - Communication), mainly doing sensitization on HIV/AIDS through music with his Fanclub 'RAP AGAINST AIDS'. <!=================interview====================>
<!=======================end interview=============> In September 2006 Magnus finished his first Humanitarian Musical Album with 10 tracks entitled 'LIVING IN CRISIS'. The end-mix will be done in a studio in Conakry/Guinea and the album will be released in Liberia where Magnus hopes to hand out the first copy to President Ellen Johnson-Sirleaf. Also he dreams to present copies personally to his heroes; Nelson Mandela, Oprah Winfrey, Marco Borsato, Kofi Annan, Bill Clinton, Bill Gates, Richard Branson, Stevie Wonder, Halle Berry, and Tiger Woods. If you know any of these people personally, please ask them if they accept his request.
The song SAFE THE CHILDREN is embeded in this site. You can reach Magnus by e-mail at: MAGNUS
MAGNUS & FRIENDS CHILDREN FOUNDATION
Some Liberian Humanitarian NGOs have asked MAGNUS to compose a song that will attract the attention of the International Community to the desperate situation of millions of young children who are traumatized victims of war in Africa, especially in Liberia and Sierra Leone. Being a refugee himself since childhood, it was not difficult to accept that challenge. The result is "SAVE THE CHILDREN". If the song gets released and records sold, Magnus wants to donate most revenues to local grass root NGOs who support those Children of War.
To ensure the revenues arrive at the right places and because Magnus receives an increasing number of proposals for financial donations, he has decided to establish the MAGNUS CHILDREN FOUNDATION. You can help him to help them by sending your support and proposals by e-mail to THE LIBERIAN.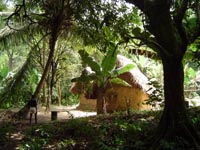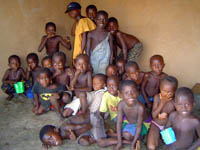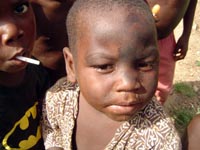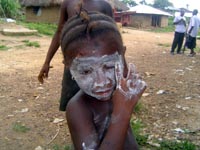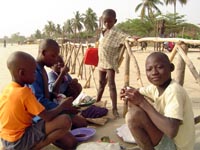 THE CHALLENGE AND THE QUEST
Save The Children project is a musical quest to attract the attention of the world to the desperate situation of children in African who are victims of devastating and immense crewel wars. By doing so we hope to raise fund to support local grass root organizations on the spot to help there where the needs are the highest. Why local NGOs you will ask. The answer is very simple. If you donate such money to the big NGOs with luxury head offices in New York and Geneva they first have to build more offices, employ more academic experts, pay for business class airline tickets and first class hotels otherwise these highly educated people don't accept such jobs. With small grass roots organizations most of the money is well spend where necessary and the effect is 400% higher. Only 20% slips into the pockets of all kind of hustlers while with the big NGOs only 20% effectively reaches the people in need. Just think about that and then you will get even more sympathy for initiatives from Bob Geldoff, Bono and Dutch singer Marco Borsato.
MAGNUS & FRIENDS
CHILDREN FOUNDATION
AFRICA
---
POSTBOX 1901 - JOHNSONSTREET - 1000 MONROVIA
LIBERIA
PH: +22464426765/+224 64396540/+2316490817
FX: +1 253-322-7538
---
IC BANK ACCOUNT#
2/001/002234/1
IN CONAKRY/GUINEA
---
CORRESPONDING BANK
Deutsche Bank Trust / Company Americas P.O Box 318 - Church Street Station - New York NY 10008-0318
Tel: (212) 250 3668
Fax: (212) 250 1068
Telex: (023)62922/120066
USD Account No:04411077 / SWIFT CODE : BKTRUS 33
MORE MUSIC FROM THE ALBUM

If you visit the bannerlink SELLABAND below, you will support Magnus to get an international record-deal. You can even buy shares in his future success. Give him a break and click! Also tell your friends to do so. Magnus' and your interest will grow by the day. THANKS.

Magnus on SellaBand